Financial Aid
Early FAFSA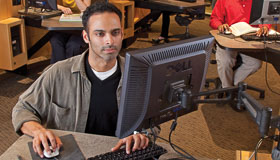 Applying for next year's financial aid has just gotten easier!
FATV: Financial Aid TV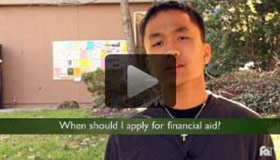 Have questions about financial aid at Brooklyn College?
Office of Financial Aid
308 West Quad Center
Financial Aid at the Enrollment Services Center
Lobby, West Quad Center (document submission)
P: 718.951.5051
F: 718.951.4778
See the "Contact" section for additional information.
Quick Links
Direct Deposit
Direct deposit information can now be entered in CUNYfirst. For instructions, reference this guide (pdf).
Important Dates/Deadlines
Check the NY State Excelsior Scholarship website for the most up to date information about scholarship application availability and deadlines.
The last day to submit the scholarship application for summer session 2017 is June 30th, 2017.
The first day to submit a  Federal Direct Loan Change  request form for the 2017-2018 award year is July, 3rd 2017.
Note: direct loan change request forms will begin processing no earlier than July 10th, 2017
The last day to submit Spring 2017 SAP (Satisfactory Academic Progress) appeal was January 27th, 2017. 
The last day to withdraw from a class for the Spring 2017 semester was April 19th, 2017.
The last day to submit a  Federal Direct Loan request for Spring 2017 was May 5th 2017.
FAFSA Workshops
Need help completing the FAFSA? The Office of Financial Aid is providing FAFSA and TAP application filing workshops. Please see the dates, times and location below:
June
Thursday  6/15/17, Time: 12pm-1:30pm, Location: Rm 105FB - West End Building (W.E.B)

July
Monday 7/10/17, Time: 12pm-1:30pm, Location: Rm 105FB - West End Building (W.E.B)   
Tuesday  7/18/17, Time: 12pm-1:30pm, Location: Rm 105FB - West End Building (W.E.B)   
Wednesday 7/26/17, Time: 12pm-1:30pm, Location: Rm 105FB - West End Building (W.E.B)  

August 
Thursday 8/3/17, Time: 12pm-1:30pm, Location: Rm 105FB - West End Building (W.E.B)   
Monday   8/14/17, Time: 12pm-1:30pm, Location: Rm 105FB - West End Building (W.E.B) 
Applying for a FSA ID
Before you apply for federal student aid via the FAFSA Application, ensure that you have applied for and received a Federal FSA ID. An FSA ID is required for all students and additionally for at least one parent if you are a dependent student. An FSA ID gives you access to Federal Student Aid's online systems such as the FAFSA application and can serve as your legal signature, so make sure that you safeguard this important information.
Applying for Financial Aid
Priority Deadline for the 2017-2018 FAFSA  
The priority deadline to submit the Free Application for Federal Student Aid (FAFSA) for 2017–18 to the Brooklyn College Office of Financial Aid is May 1, 2017.
Note
All students should apply for financial aid every year. Students who missed the financial aid priority deadline are still encouraged to file the FAFSA and will be considered for federal student aid, if eligible, but institutional funds become increasingly limited and there is no guarantee that it will be available on your account by the time the bursar bill becomes due.
Apply for a Free Application for Federal Student Aid (FAFSA). The application is free, so be on your guard when searching for the FAFSA application: Filers should make sure that they use only the official Department of Education site.
Using the IRS Data Retrieval Tool on the FAFSA
The IRS Data Retrieval Tool (DRT) on the FAFSA has been deactivated by the IRS due to privacy and security concerns. Therefore this option is presently unavailable and is expected to remain unavailable when filing the 2017-2018 FAFSA. This means that you will need to manually enter your 2015 income and tax return information when completing your 2017-2018 FAFSA.
Click here to read the joint statement from the IRS and the U.S. Department of Education explaining why the DRT was deactivated. It is not expected to be reactivated until the next FAFSA filing season beginning with the 2018-2019 FAFSA.

Applying for the NY State Tuition Assistance Program (TAP)
After submitting your FAFSA, you will be taken to the FAFSA Confirmation Page. Look for "Optional Feature — Start your state application" on the Confirmation page to go to TAP on the Web. Here you will be able to apply for New York State tuition assistance programs for full- and part-time students. If you do not complete the TAP on the Web application after completing the FAFSA, you will be sent an e-mail with a link to that application after your FAFSA is processed. You will receive a copy of your Student Aid Report (SAR) by e-mail within three to five days of filing your FAFSA. Check your SAR for accuracy. If you find errors on your report or you have been selected for verification, follow the directions on your SAR to make corrections. Also, report any errors or submit any verification documents to the Office of Financial Aid.
For information on how to file your FAFSA, complete a Verification. To view your financial aid information in CUNYfirst, review these application instructions and 7 Easy Steps to the FAFSA (video).
The NY State Excelsior Scholarship
Information about the NY State Excelsior Scholarship is available on the NY State Higher Education Services Corporation (HESC) Website in FAQ format. We encourage you to review the FAQ and to sign up for an alert to be notified when the scholarship application becomes available. Please note that the FAQ is available in multiple languages (see the sidebar on the webpage). Also, you must complete your 2017-2018 FAFSA and TAP applications as part of this process so please do as soon as possible, if you have not yet done so.
To make sure you fully understand all of the eligibility criteria and requirements for utilizing and maintaining the NY State Excelsior Scholarship we strongly recommend that you carefully review the CUNY Excelsior Scholarship FAQ.
Financial Aid Estimator/Net Price Calculator
Important Financial Aid information
Including program summary, cost of attendance, verification, applying for Federal Direct loans, student rights and responsibilities, etc.