Educational Talent Search Program
The Federal TRiO Programs were designed to identify and provide services for students from disadvantaged backgrounds. In 1965, as part of the Higher Education Act, TRiO created Educational Talent Search to help disadvantaged or low-income students be the first generation in their families to attend college and attain a bachelor's degree.
In 2016, the Brooklyn College Educational Talent Search Program began a five-year grant to serve five target high schools in Brooklyn. Our target schools are the Academy for College Preparation and Career Exploration, Brooklyn Generation School, Cultural Academy for the Arts and Sciences, Brooklyn Collegiate, and George Westinghouse High School. We work closely with school administration, guidance counselors, and college advisers to provide pre-college counseling to students in grades 9–12 with the goal of bridging the gap for our students.
The Brooklyn College Educational Talent Search Program worked with 760 high school students in the 2018–19 academic year. Our goal is to increase the number of first-generation and disadvantaged youth who successfully complete high school, enroll in college, and achieve post secondary success. The program supports TRiO students by providing the following services:
Regents and SAT Prep tutoring
Academic, career, and financial counseling
College readiness workshops
Learning and study strategy assessments
Assistance with college enrollment applications
Single-day college trips and overnight college tours
Summer enrichment activities
Mentoring
And more
To become a member, complete the BC Educational Talent Search Application (pdf). For assistance, contact us at 718.951.5593.
Adelphi University & LIU College Tour!
Join TRiO Talent Search in an all-inclusive college tour trip! We will visit Adelphi University and Long Island University to educate students on more college opportunities and give them a contrasting look and feel of college campuses. If you are interested, see the flier for more information and contact our office! hope to see you there!
Contact your TRiO counselor for more information!
April 13, 2020 
7 a.m.– 5 p.m.
Free breakfast and lunch provided!

MUST BE A TRIO PROGRAM MEMBER TO ATTEND
Homework Help Mondays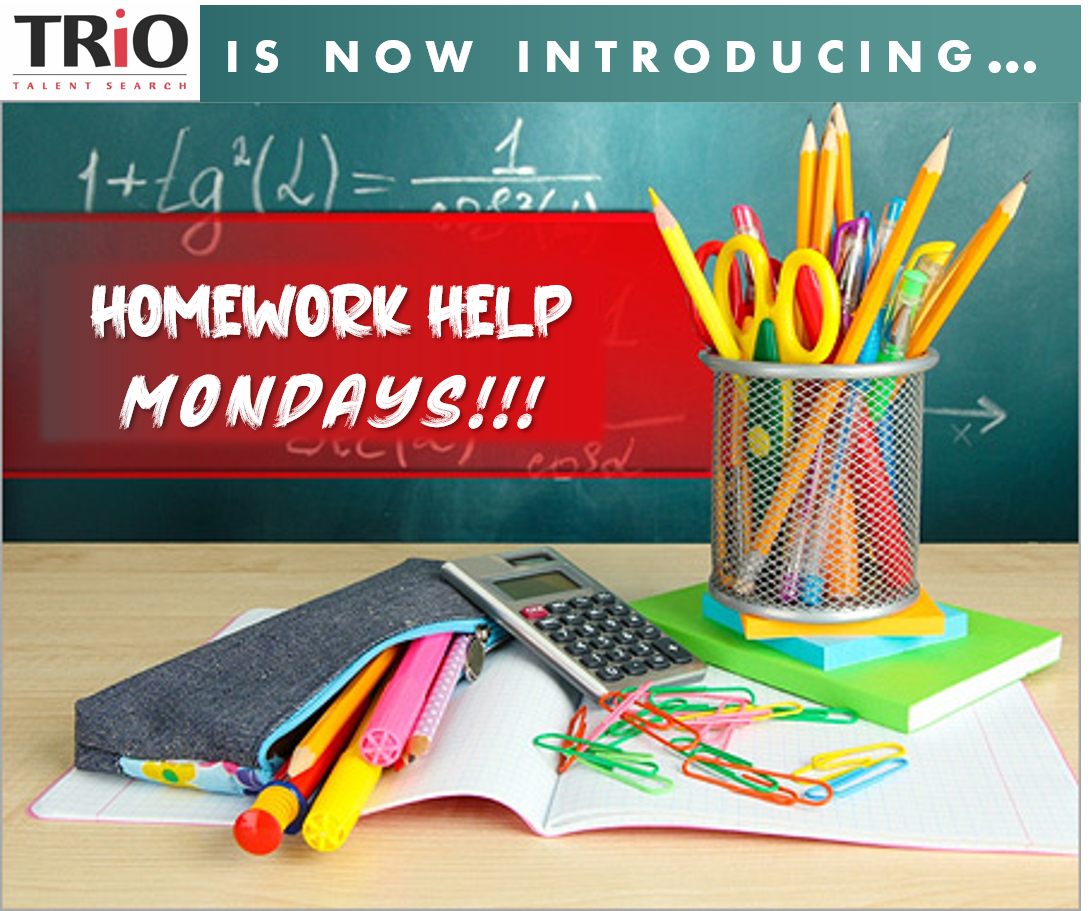 TRIO Educational Talent Search is introducing Homework Help Mondays!!! 
Starting on March 2nd, students can bring their homework assignments for TRiO tutors to assist them with. We are dedicating every Monday, from 3:00pm to 6:00pm until June 8th, to help students stay on track with their homework. There is no formal sign-up process for this service; whenever students need help with their homework, they just need to come (to Brooklyn College Campus, Ingersoll 1428) during the designated times.
Looking forward to working with you!
Spring 2020 Regents Prep Courses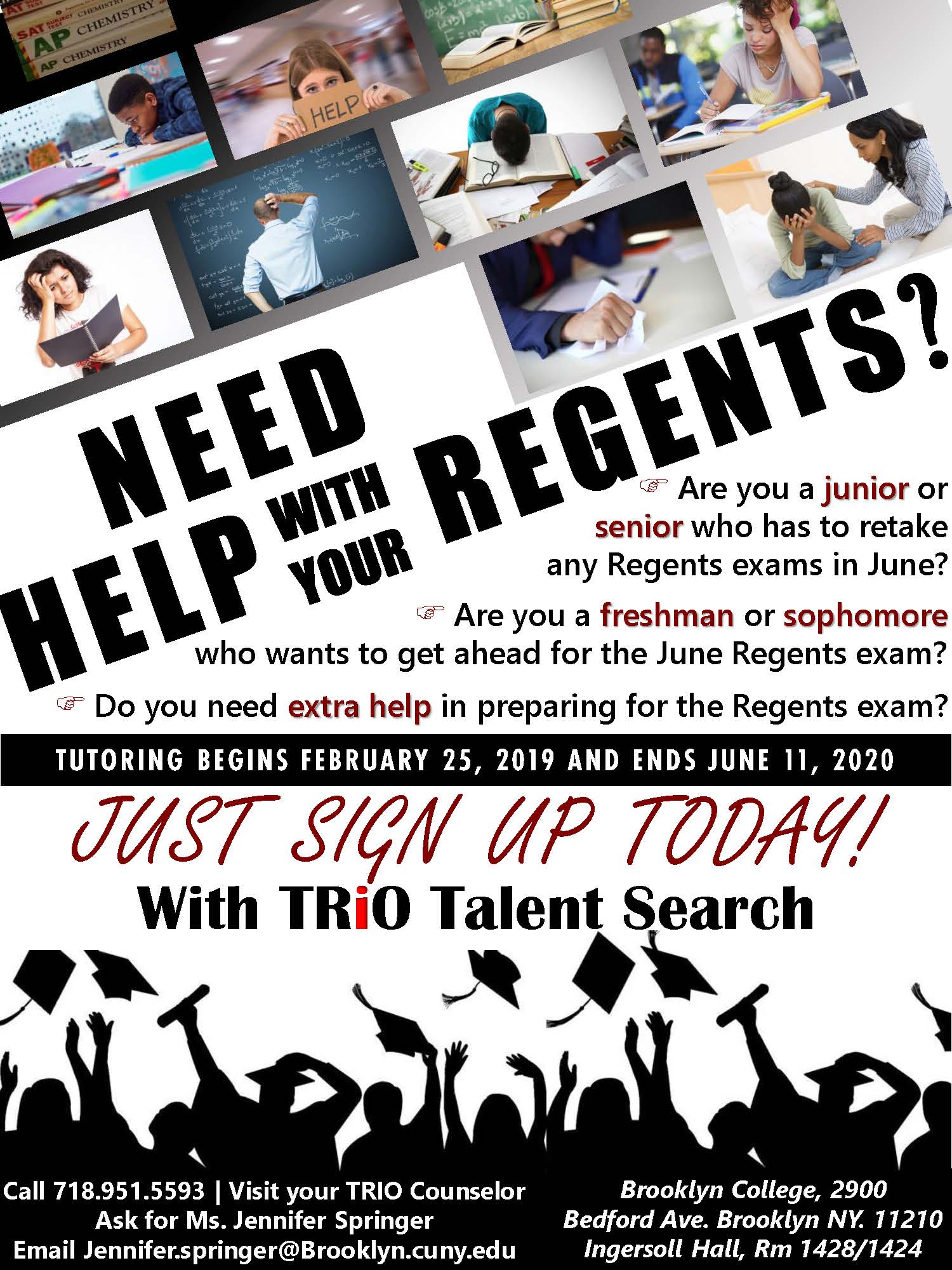 TRiO Talent Search's Spring Regents Prep Courses are enrolling! Receive help with subjects such as math, reading, science, and writing. Watch your scores increase! Hope to see you soon!
February 25th - June 11st
Tuesday - Thursday
4:00 - 6:30 p.m.
Here is our TRiO application. Please fill it out to receive these services for FREE: Application for spring 2020 enrollment (pdf)
Fax the application to our office. If you are not able to fax, manual submission is accepted as well. Our contact is on the flier.
Spring 2020 SAT Prep Courses
TRiO Talent Search's Spring SAT Prep Courses are enrolling! Learn proven test-taking strategies that will help improve your SAT scores in our spring enrichment program. Areas covered include math, reading, and writing. Hope to see you soon!
April 1st –May 1st
Mondays and Wednesdays
4–6 p.m.
Get an SAT fee waiver (for May 2nd exam)
Application for spring 2020 enrollment (pdf)
Fax the application to our office. If you are not able to fax, manual submission is accepted as well.
BSU Mentoring Program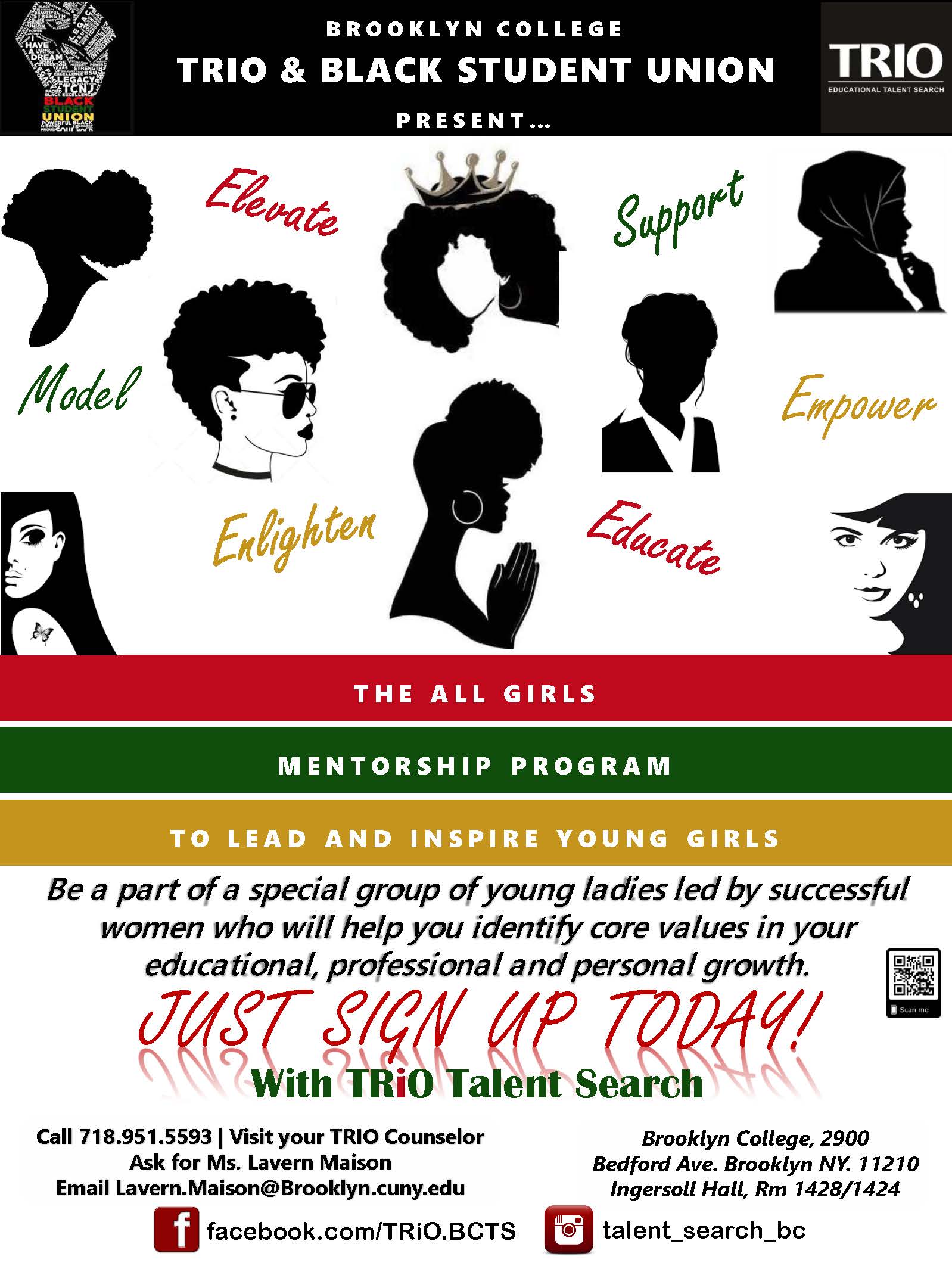 Do you desire to have a mentor but don't have the outlet or resources to do so?
Join Brooklyn College's TRiO and Black Student Union for our first All Girls Mentorship Program!
Sign up today with TRiO Talent Search.
Visit your TRiO Counselor | Call 718.951.5593 | Ask for or e-mail Lavern Maison