CTL and AIT Workshop Schedule (Summer 2022)
Introduction to the Redesigned Turnitin LTI Assignment Tool
Learn how to create Turnitin assignments using the redesigned LTI version and how to view, grade, and manage each submission.
Monday, August 1, 1–2 p.m.
This workshop will be repeated on the following dates:
Past Events (Summer 2022)
Brooklyn College Teaching Portfolio Workshop: Summer Cohorts 1 and 2
In the Teaching Portfolio Workshop, faculty reflect on the methods and materials of their teaching. This intensive, week-long process gives faculty the opportunity to concretize not only their philosophy of teaching, but also their praxis in the classroom, laboratory, and studio. With the guidance of the facilitating mentor, participants take deliberate steps in considering, collecting, and comparing the processes and products of their pedagogy. While the first three days of the workshop are asynchronous (self-directed based on a series of questions), the final four and a half days (including a weekend for seeking and finding materials) culminate in the completion of a high-quality digital Teaching Portfolio that can be submitted alongside Tenure and Promotion materials, or for consideration as a candidate for a teaching award or fellowship.
Cohort 1: June 13–22
Cohort 2: July 18–27
Register Here*:
*There is a rolling deadline until cohorts are full; 12 faculty (max) per session.
Past Events (Spring 2022)
Advisor to Advisor: Conversations on How to Support Our Students
/CTL in Collaboration
We are very excited to announce a Roundtable series on Advising facilitated by Liv Yarrow (Classics) with Nicole St. Clair (CAASS – Associate Director of First College Year and Student Success) and Takiyah Lord (CAASS – Associate Director of Academic Advisement and Student Success)
Session 1: Less Red Tape, More Options
Strategies for effective advisement. How to help students build schedules and plan their degree to avoid common pitfalls and what to do when the best laid plans go awry. This workshop will cover common financial aid and degree audit issues and tools we can use to help students avoid them.
Thursday, Mar 17, 12:30–2 p.m.
Session 2: The Unique Role of Faculty in Advising
Come learn how to have more impactful and transformative interactions with your students. Learn what topics CAASS advisors recommend students discuss with their program advisors and WHY! Share idea and strategies.
Tuesday, April 26, 12:30–2 p.m.
Session 3: How to Recruit Students and Keep Them Engaged
Reaching more students. How to target specific students in your program and review and track progress for all declared majors and minors. Strategies for using that information to make human connections and help students before a crisis arises. Hear about what has worked well in other departments and share your own approaches.
Tuesday, May 10, 12:30–2 p.m.
Open and Digital Pedagogy: Fostering Student Engagement and Student Contributions to Public Scholarship
These workshops will focus on open pedagogy, that enacts the belief that students as part of their learning, can and should be, not only consumers of knowledge but also producers of public scholarship.
Open Education Technologists will provide ongoing support for faculty who are interested in developing and assigning open pedagogy digital projects. The BC OER Initiative also provides support for innovative pedagogical assignments/projects. Awards will be determined on a case-by-case basis.

All of these tools are freely available to all BC students and faculty.
All workshops will be approximately 90 minutes and held virtually on Zoom and a link will be sent out prior to each event.
Offered by:
Miriam Deutch, Associate Professor, OER Director
Emily Fairey, OER/Digital Scholarship Librarian and Wolfe Institute Digital Humanities Fellow @ the Brooklyn College Library
Colin McDonald, OER Developer, Brooklyn College and Project Manager, Graduate Center, CUNY Academic Commons
Amy Wolfe, OER Developer, Instructional Designer and CUNY Accessibility Librarian
Digital Discussions
Wednesday May 4, 1–2:30 p.m.
Social reading can deepen student engagement with the text, both individually and in groups. Learn how to create assignments using Hypothes.is, and Manifold, and Slack to encourage collaborative annotation. CUNY Academic Commons and Slack provide additional ways to bring together a variety of student viewpoints and resources that give a reading new life.
Teaching with Maps
Thursday May 5, 1–2:30 p.m.
Presentation of StoryMap assignments; and participants will learn how to create a Story Map. Here are some guides on StoryMaps Classic and the New StoryMaps.
Audio and Video Assignments
Wednesday, May 11, 1–2:30 p.m.
Learn the best practices for your students to complete successful assignments involving audio and/or video. Recordings give students an opportunity to creatively package and present information for a public audience.
Open Publication Platforms
Thursday, May 12, 1–2:30 p.m.
Learn how you can use dynamic, multimedia rich platforms - Manifold, CUNY Academic Commons, and Pressbooks - to publish student research projects or present course materials. These platforms have print-on-demand features and format well on mobile devices.
Game-Based Learning
Tuesday, May 17, 1–2:30 p.m.
Games and simulations are powerful tools for learning when tied to specific learning goals and outcomes. This workshop will demonstrate different types of games and choosing the right game for your lesson. Check out this Game-based learning Resources Guide.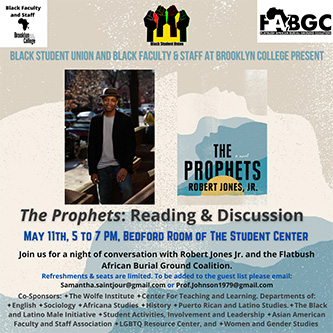 Spring Reading Group: The Prophets by Robert Jones, Jr.
/The Ethyle R. Wolfe Institute/
The Ethyle R. Wolfe Institute presents a Spring 2022 campus-wide reading group open to students, faculty, and staff. Organized by Black Faculty and Staff featuring The Prophets by Robert Jones, Jr., Brooklyn College alum, NYT Best Seller, and Finalist for the National Book Award.
E-mail wolfeinstitute@brooklyn.cuny.edu to sign up for the reading group and to get information about how you might receive a free copy of the book. Students, staff, and faculty are welcome!.
Co-sponsored by: CTL, Department of English, Department of Sociology, BLMI, Black Student Union, Department of Puerto Rican and Latino Studies, Department of Africana Studies, Department of History, Women's and Gender Studies Program, LGBTQ Resource Center, Student Activities Involvement and Leadership, and the Asian American Faculty and Staff Association.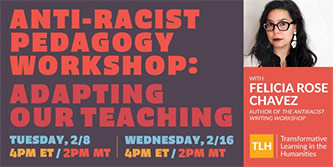 Anti-Racist Pedagogy Workshop: Adapting Our Teaching
/Transformative Learning in the Humanities/
So much of teaching is about inheritance, about reinforcing the way it's always been done. Many of us can't even articulate why we teach the way that we do, beyond tradition serving as a rite of passage. But if "the way it's always been done" hurts and marginalizes a subset of our students, how might we adapt our teaching habits to actively achieve plurality? How can we ensure anti-racism in our classrooms? How can we create better ways of teaching alert to implicit and explicit bias of all kinds?
Imagine if we empowered students to take charge of their writing by teaching them professional managerial practices, those real-life skills that best serve long-term, collaborative projects. Critique is an intricate skill that necessitates attention, from one-on-one mentorship to peer review exercises, small group work, and large group workshop. By training students in how to summarize their projects, articulate constructive questions, and moderate their own feedback sessions, we acknowledge their accountability. Students go on to claim ownership of not only their work, but their working relationships with instructors and peers.
This interactive workshop draws on storytelling, freewriting exercises, and discussion to prompt us to interrogate our academic and cultural inheritance with the goal of discovering possibilities beyond traditional teaching models. Participants will leave with 20+ specific, practical take-aways for everyday anti-racist action, helping us shift from authority over our students to allies to our students.
Felicia Rose Chavez is an award-winning educator with an MFA in Creative Nonfiction from the University of Iowa. She is author of The Anti-Racist Writing Workshop: How to Decolonize the Creative Classroom and co-editor of The BreakBeat Poets Volume 4: LatiNEXT with Willie Perdomo and Jose Olivarez. Felicia's teaching career began in Chicago, where she served as Program Director to Young Chicago Authors and founded GirlSpeak, a feminist webzine for high school students. She went on to teach writing at the University of New Mexico, where she was distinguished as the Most Innovative Instructor of the Year, the University of Iowa, where she was distinguished as the Outstanding Instructor of the Year, and Colorado College, where she received the Theodore Roosevelt Collins Outstanding Faculty Award. Her creative scholarship earned her a Ronald E. McNair Fellowship, a University of Iowa Graduate Dean's Fellowship, a Riley Scholar Fellowship, and a Hadley Creatives Fellowship. Originally from Albuquerque, New Mexico, she currently serves as the Bronfman Creativity and Innovation Scholar-in-Residence at Colorado College. For more information about The Anti-Racist Writing Workshop, and to access (and add to!) a multi-genre compilation of contemporary writers of color, visit Anti-Racist Workshop.
Tuesday, February 8, 4 p.m.
Wednesday, February 16, 4 p.m.
Rebuilding your course using a Blackboard template
/AIT/
AIT will share with you two Blackboard templates with useful resources and guidelines embedded into some of the course menu hyperlinks.
Classroom Activities to help foster Metacognition
/CTL/
Join AIT to become familiar with the Blackboard rubric tool, learn how to associate it with assessments and how to use it to grade them
Blackboard Q&A
/AIT/
Join AIT in this open, free-form session to discuss your Blackboard questions.
Blackboard Interactive Tools
/AIT/
Know in detail how to use Blackboard interactive tools such as Discussion Board, Blogs, Journals, and Wikis.
The Blackboard Assignment and the Annotate
/AIT/
Learn how to create, review and grade a Blackboard assignment and understand how to use the new Bb Annotate for customizable feedback to your students' assignments. Become familiar with new features such as sidebar summary view, freehand drawing tools, various color selections, and more.
Introduction to SafeAssign, The Blackboard plagiarism detection tool
/AIT/
Become familiar with the native Blackboard plagiarism detection tool. Participants will learn how to create SafeAssign assessments for student submissions, and how to view, grade, and manage them.
Origins of Pedagogy of Kindness
/City College CTL/
Dr. Catherine Denial from Knox College, hosted by the Queens College CTL, will talk about what does it mean to teach with kindness? How do we weave compassion into our policies, assignments, and grading practices? This keynote will focus on the three things that make up a Pedagogy of Kindness: justice, believing students, and believing in students. The session will cover practical tips for increasing kindness in and out of the classroom, and weave in periods of self-reflection on our own experiences with compassion in educational settings.
Creating LGBTQIA+ Inclusive Courses
/City College CTL/
CCNY's LGBTQ+ Student Center serves as a resource for students and a repository of queer-themed, queer-centric, and queer-adjacent courses. Faculty panelists from City College David Lohman, Brandon Judell, Kedon Willis, and Yaari Felber- Seligman describe the queer content in their courses and how they use that content to create queer inclusive courses for LGBTQIA students. The session aims to start a conversation about queer content CUNY-wide.
Introduction the Turnitin plagiarism detection tool
/AIT/
Learn how to create Turnitin assignments, review, and grade them.
Transitioning Back to Campus with Mind and Presence Hybrid Session
/CTL/
Come to Boylan 2420 or join via Zoom
Below you will find the current workshop calendar. For ongoing self-paced courses and other faculty training programs, visit this page.
Blackboard Q&A
/AIT/
Join us in this open, free-form session to discuss your Blackboard questions.
SafeAssign vs Turnitin
/AIT/
Learn how to use the two Blackboard integrated plagiarism detection tools and discover some of the similarities and differences. .
Creating course groups on Blackboard
/AIT/
Instructors will learn how to create and manage the course groups and how to set up group collaboration areas.
Peer Observation focus on Reciprocity and Growth
/CTL/
TBA
Ungrading and Alternative Assessment: An Interactive Workshop
/TLH/
Ungrading" means raising an eyebrow at grades as a systemic practice, distinct from simply not grading. It does not mean loss of "rigor" but, rather, means reconsidering the assumptions that underlie grading. The word is a present participle, an ongoing process, not a static set of practices. Too many of our approaches to grades treat students like they're interchangeable and fail to recognize their complexity. Can we imagine flexible approaches to assessment, pedagogies which center intrinsic more than extrinsic motivation, encouraging and supporting learning, rather than policing behavior? We need to write policies, imagine new ways forward, for all students, including those already marginalized or facing exclusion. In this workshop, we'll examine the foundations for our pedagogical approaches, consider the history of grades, examine the bias inherent in many of our standardized systems, and explore methods and approaches for designing assessments that push back against traditional notions of grading. The workshop will balance presentation with activities and discussion.
The workshop will not be recorded, however TLH will post an event recap on our blog following the event. While the methods discussed within the workshop are immediately related to transforming the humanities, they are also broadly applicable outside the humanities in STEM fields, and beyond.
Accessibility: The event will have ASL interpreters and live CART captioning for the event. If you have questions or would like to connect with the organizers, please send us an email to Christina Katopodis at TLH@cuny.edu
Creating rubrics and grading assessments with rubrics
/AIT/
Instructors will become familiar with the Blackboard rubric tool, associate it with an assessment, and use it for grading.
Building Reflections and Revision Into Your Course
/CTL/
TBA
Blackboard Q&A
/AIT/
Join us in this open, free-form session to discuss your Blackboard questions.
Blackboard Tools for Monitoring students' participation in course activities
/AIT/
You will become familiar with the Blackboard evaluation tools and get easy access to students who need immediate attention with their assessments and other course activities.
The Blackboard Survey
/AIT/
Gather insightful and valuable information from your students and learn what is working well in a course and what might change.
Blackboard Quizzes and Online Tests, and the Respondus Lockdown Browser Feature (Repeat Session)
/AIT/
AIT will teach how to create an automatic grading test and deploy it to students, modify test questions, and update students' scores automatically. We will learn about how to use the Survey tool to gather information from students. AIT will also provide an orientation to the Respondus LockDown Browser test and how to restrict what students can access on or from their computer during online Blackboard quizzes.
Monday, April 4, 1–2 p.m.
Blackboard Collaborate Link
Creating Online Tests from Word Documents.
/AIT/
Join AIT to learn how to transfer quizzes created in Word into your Blackboard class.
Wednesday, April 6, 1-2 p.m.
Blackboard Collaborate Link
Liberation Literacies Pedagogy: At the Intersection of Language, Race, and Power. A workshop with Dr. Jamila Lyiscott
/from CUNY TLH/
Lead by Dr. Jamila Lyiscott, this is an interactive teaching workshop sponsored by CUNY's Transformative Learning in the Humanities. this workshop problematizes traditional notions of what it means to be "literate" in our society and offers tools for disrupting racial/social inequity through attention to language, culture, and race as ideologically interwoven in our classrooms.
Wednesday, April 6, 4–5:15 p.m.
Registration Link
Blackboard Q & A
/AIT/
Join AIT in this open, free-form session to discuss your Blackboard questions.
Friday, April 8, 1–2 p.m.
Blackboard Collaborate Link
From Observation to Peer Review: Designing Reciprocal Teaching Observations with the Anthropology Department
Rhea Rahman, Jillian Cavanaugh, and Anthony Harb will talk through how the Anthropology Department approaches peer observations.
Wednesday, April 13, 11:30 a.m.
Register Here for Zoom link
Peer Observations: Featuring the Dept of Anthropology
/CTL/
TBA
Accessible and Engaging Class Meetings on Zoom
Join CUNY SPS for a workshop led by Matthew Lewis, Multimedia Manager, and Antonia Levy, Associate Director, both from the Office of Faculty Development and Instructional Technology at CUNY's School of Professional Studies.
In this interactive workshop, participants will learn about the accessibility features offered in Zoom, review best practices for leading accessible and inclusive online meetings, and discuss the implementation of these principles in their own teaching practice. Through live polling, breakout rooms and cross-disciplinary discussions participants will have an opportunity to share with their colleagues how synchronous meetings can be a rewarding experience for everyone.
Thursday, April 14, 11 a.m.-Noon
Register here