Brooklyn Lifelong Learning
Join BLL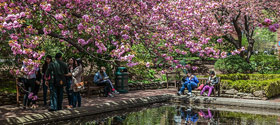 Our fall semester began on September 8, but for almost all classes, starting at ANY time poses no problem.
Be a part of the Brooklyn Lifelong Learning community.
Please Note:
Due to the COVID-19 pandemic and the closure of the Brooklyn College campus, until further notice all BLL classes are being held remotely via Zoom. At this time, no BLL on-campus activities or off-campus trips will be offered.
---
Check here for updates as we receive more information.
For adults who never stop experiencing life, there is a place and community in New York that celebrates learning. We invite you to join us.
If you enjoy exploring new ideas and acquiring new knowledge or skills in the company of friendly people, Brooklyn Lifelong Learning (BLL) is for you. Take as many BLL courses as you want in literature, history, health, film, and more – with no exams or homework for one annual fee. Take workshops in painting, foreign languages, memoir writing, drama, music, or poetry. Practice tai chi or yoga. Attend special lectures and film showings. Play bridge. Use the college library and computer facilities. Go on trips. It may well be the most fun you ever had in school. Whether planning for retirement or looking to try something new, BLL has something to offer.
BLL is now a year-round program. The BLL program has always followed the Brooklyn College schedule, with classes held during the fall and spring semesters. Due to popular demand, in recent years we have expanded our offerings to include programs and classes during the winter intercession and summer break.
While the Brooklyn College campus remains closed, all our classes are being offered remotely via Zoom. BLL members have found that Zoom is user friendly and easy to access. Access can be by computer, iPad, tablet or even by phone! During this difficult time, you will be able to engage in thought-provoking discussions or just listen to the presentations from the comfort of your home.