Join
Free Information Session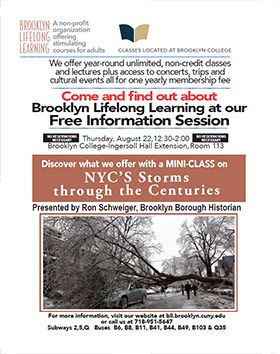 Come and find out about Brooklyn Lifelong Learning at our free information session / mini-class
NYC's Storms through the Centuries
presented by Ron Schweiger, Brooklyn Borough Historian.
Thursday, August 22, 2019
12:30 – 2 p.m.
Room 113, Ingersoll Hall Extension, Brooklyn College
No reservations required
More Information
E: bll@brooklyn.cuny.edu
P: 718.951.5647
Donate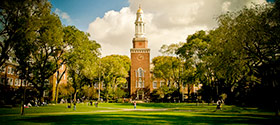 If you wish, you may make your donation to Brooklyn Lifelong Learning by credit card.
Two Ways to Join
Online
To apply for membership to BLL by credit card, fill out the online form. Once you submit your application, you will be able to pay immediately with a credit card. You will then receive an e-mail confirmation of your payment. You do not need to have a Pay Pal account to join by credit card.
Mail
Complete the BLL Membership Application (pdf), write a check for $165 payable to Brooklyn Lifelong Learning, and bring or mail them to:
Brooklyn Lifelong Learning
2515 Glenwood Road #1AA
Brooklyn, NY 11210
Special Offer for New Members
New members who join only for the spring and summer terms pay a reduced fee of just $50. This allows the opportunity to try out membership without making a commitment for an entire year. This offer is available only one time per member.
Want to Try Before You buy?
If you'd like to attend a class or two before joining, we welcome you to try it out. Contact the office to arrange your visit. 
Note
The basic membership fee is $165 per year. We encourage members to join at the Friends of BLL level of $200, which helps support the organization. The generosity of those who give at the Friends level is greatly appreciated!