Office of the Dean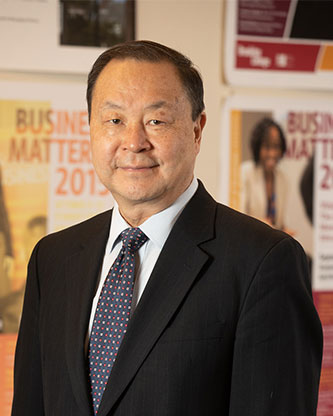 Message of the Dean
Welcome to the Murray Koppelman School of Business, where our faculty and staff are devoted to delivering transformative, high-quality, and affordable business education to students from all social, economic, ethnic, and cultural backgrounds. Our primary goal is to graduate students who will be business and civic leaders dedicated to making a positive difference in business and society. We have a world-class faculty who are committed to excellence in teaching and research, a location that provides exceptional access to the world's financial and marketing capital, and a supportive network of high-achieving alumni and corporate and organizational partners, all of which place Koppelman in a unique position to deliver a distinctive business education experience.
At Koppelman, we transform our students into highly capable professionals and entrepreneurs by providing them advanced business knowledge, coupled with real-world experience in the form of internships, investment projects with the MD Sass Investment Academy, and exposure to top-level business executives through the various events sponsored by the Dean's Office, the Magner Career Center, the Koppelman Student Leadership Council, and many student clubs and organizations. Our 7,200+ alumni who work and live in New York City and around the world offer an expansive professional network for mentoring and career opportunities. 
Koppelman is undertaking a significant transformation with a vision of becoming a premier public business school in New York and a destination of cutting-edge business education for students from New York and around the world. We are expanding our graduate programs in areas of high demand in the digital economy; strengthening our undergraduate core curricula with ethics, technology, analytics, and communication modules; improving faculty research productivity and quality with increased financial and technological support; and engaging industries, communities, and alumni in all areas of our mission's critical operations. 
The future of Koppelman is brighter and more exhilarating than ever before. However, we cannot fulfill our mission and deliver the promised education alone in this increasingly competitive and uncertain global environment. I look forward to welcoming perspective students, employers, community members, and alumni to visit our beautiful campus in Brooklyn; meet our students, faculty, and staff; and experience the excitement and energy in the Koppelman School of Business. Together, we will realize our vision and make our dreams a reality. 
Qing Hu, Ph.D.
Dean