Spring 2016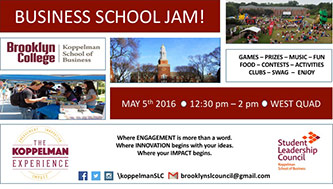 Business School Jam!
Games, prizes, music, fun, food, contests, activities, clubs, swag.... Enjoy!
May 5, 2016
12:30 – 2 p.m.
West Quad
More Information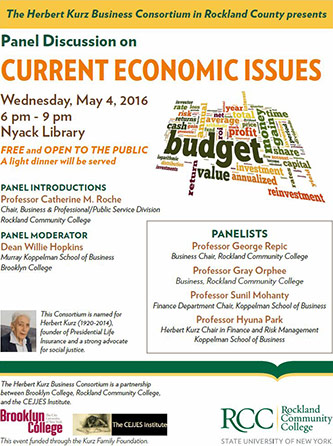 The Herbert Kurz Business Consortium in Rockland County Presents
Panel Discussion on Current Economic Issues
Panelists
Panel Introductions
Panel Moderator
Wednesday, May 4, 2016
6–9 p.m.
Nyack Library
Free and open to the public. A light dinner will be served.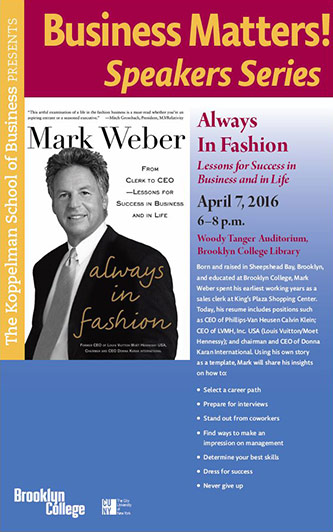 Business Matters! Speakers Series
Always in Fashion: Lessons for Success in Business and in Life
with Mark Weber
Former CEO of Louis Vuitton/Moet Hennessy USA, Chairman and CEO of Donna Karan International
Born and raised in Sheepshead Bay, Brooklyn, and educated at Brooklyn College, Mark Weber spent his earliest working years as a sales clerk at Kings Plaza Shopping Center. Today, his résumé includes positions such as CEO of Phillips-Van Heusen Calvin Klein; CEO of LVMH, Inc. USA (Louis Vuitton/Moet Hennessy); and chairman and CEO of Donna Karan International. Using his own story as a template, Mark will share his insights on how to:
Select a career path
Prepare for interviews
Stand out from coworkers
Find ways to make an impression on management
Determine your best skills
Dress for success
Never give up
Thursday, April 7, 2016
6–8 p.m.
Woody Tanger Auditorium, Brooklyn College Library