Art Education Programs
Summer Arts Institute Course: Human Tracks in the Urban Landscape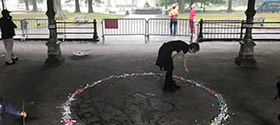 A practicum in art, technology, and the environment (that puts the art into STEAM).
July 22–August 1, 2019
Study art education in New York City at Brooklyn College.
The Art Education Program is committed to preparing quality art teachers (PK–12) who are skilled makers of art, insightful observers of contemporary developments in the arts, and articulate advocates for art education in public and independent schools.
For students who hold a bachelor's degree from an accredited institution in either art or art education, we offer two paths to a master of arts degree in art education. Additionally, for students who already hold a master's degree in art or related discipline, we offer a path to an advanced certificate in teaching art.
The curriculum consists of education courses, field experiences, and arts courses that are scheduled to accommodate students who have family and/or professional responsibilities. Most students complete the program in two years, but individuals are free to set their own pace for progressing through the program.
The courses required by individual programs in art education can vary depending on the entry qualifications of students.
The profession of teacher education is licensed by the New York State Education and has reciprocal agreements with many other states.