Conservatory of Music
Friday, March 8, is Audition Day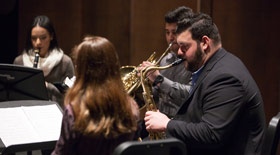 Click Undergraduate or Graduate for more information and to request an audition.
Concerts and Events
Saturday, February 9, 2019
Friday, February 15, 2019
Wednesday, February 27, 2019
Wednesday, February 27, 2019
Thursday, February 28, 2019
Thursday, March 7, 2019
Thursday, March 7, 2019
Saturday, March 9, 2019
Wednesday, March 13, 2019
Thursday, March 14, 2019
Situated amid the vibrant cultural milieu that is Brooklyn, the Conservatory of Music of Brooklyn College offers undergraduate and graduate degrees in Performance, Composition, Musicology, and Music Education, along with Advanced Certificate programs in Music Education and Performance, a post-master's Advanced Diploma in Performance, and new M.F.A. programs in Sonic Arts and Media Scoring. Full instrumental scholarships are available for string, woodwind, and brass applicants. Study with world-class faculty and receive professional training while being part of a great academic institution. Conservatory alumni are flourishing in their field, performing in orchestras, opera houses, night clubs, and cutting-edge concert venues, fostering arts organizations and festivals, and teaching in schools across the country and around the world.
The Conservatory is pleased to announce the opening of the new Leonard & Claire Tow Center for the Performing Arts, a state-of-the-art facility that promises to become one of the borough's premiere performance venues.
Contact Information
Department Chairperson : Stephanie Jensen-Moulton
Assistant Director: Douglas Cohen
Graduate Deputy: Alexandra Lewis

Location: 422 Whitehead Hall
Phone: 718.951.5286
Fax: 718.951.4502
Ravel, Shéhérazade