Achilles Liarmakopoulos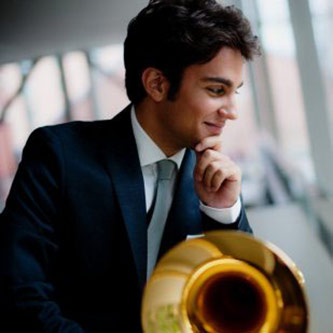 Adjunct Assistant Professor, Trombone
Award-winning trombonist Achilles Liarmakopoulos has dazzled audiences worldwide. As a member of the legendary Canadian Brass, Achilles has toured extensively throughout North America, Europe and Asia, performing and educating in the world's most important venues and institutions. He frequently tours internationally with the world-renowned Pink Martini.
Liarmakopoulos holds degrees from the Yale University School of Music, Curtis Institute of Music, San Francisco Conservatory and the Philippos Nakas Conservatory in his hometown of Athens, Greece. Upon completion of his studies, he won the position of principal trombone of the Greek Radio Symphony Orchestra. He has also performed with the Malaysian Philharmonic, Jacksonville Symphony and European Union Youth Orchestra, among many others.
As a recitalist, he has performed in China, Spain, France, the Netherlands, Austria, Finland, Greece and the United States, having been awarded honors at competitions around the globe. At the age of 18, he gave two solo performances at Walt Disney Hall as the Grand Prize Winner of the Pasadena Showcase House Instrumental Competition. He has gone on to win prizes at the Christian Lindberg International Competition, the Yamaha Music Foundation of Europe (YMFE) and the International Trombone Festival's Robert Marsteller/Conn-Selmer and Larry Wiehe solo competitions, to name a few. He was also awarded the Alexandros S. Onassis Foundation and Greek State Scholarship Foundation educational scholarships.
In 2011 Liarmakopoulos released his debut solo album on the NAXOS label, Tango Distinto, celebrating the music of Astor Piazzolla, the first solo trombone album with the Piazzolla's music. He continues to champion the music of Latin American composers and was recently invited by salsa icon Ruben Blades to perform at his concerts.
As part of an exclusive agreement between the Conn-Selmer Corporation and Canadian Brass, Liarmakopoulos performs on a 24-karat gold-plated Bach 42B trombone.
Canadian Brass website: canadianbrass.com