Wang Jie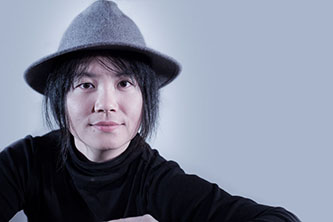 Adjunct Assistant Professor, Composition
At the forefront of the younger generation American composers, Wang Jie has emerged as one of the most evocative musical voices. Ranging from elegant to campy, her works are powerfully engaging, richly orchestrated, and rhythmically vibrant. One day she spins a few notes into large music forms, the next she calls Zodiac animals to the opera stage—a rare trait in today's composers.
Born in Shanghai shortly after the Culture Revolution, Jie was raised in an era of breathtaking economic and cultural expansion. She was a known piano prodigy by age five. A scholarship from Manhattan School of Music brought her to the United States, where she began her composition studies under the tutelage of Nils Vigeland and later with Richard Danielpour at the Curtis Institute of Music.
While a student, her tragic opera Nannan was showcased by New York City Opera's annual VOX festival. This led to the production of her chamber opera Flown, a meditation on lovers who must part, by Music-Theatre Group. The Emily Dickenson inspired song cycle I Died for Beauty was featured at the opening ceremony of Beijing Modern Music Festival. Her piano trio Shadow dramatizes the inner life of an autistic child. It was featured by the New Juilliard Ensemble at the Museum of Modern Art and was subsequently presented by Continuum at Merkin Hall's "China in America."
Not yet 30 years old, Jie won the coveted Underwood Commission, and her concert opera From the Other Sky was the centerpiece of the American Composers Orchestra's season opening concert at Carnegie Hall. During that same year, the Minnesota Orchestra, led by Osmo Vanska, performed her Symphony No. 1 as part of "Future Classics" series. Most recently, Symphony No. 2, commissioned and premiered by Detroit Symphony Orchestra under the baton of Leonard Slatkin was streamed live to global audiences. Her Oboe Concerto, co-commissioned by The Koussevitzky Foundation in the Library of Congress and The League of Composers Orchestra, premiered at New York's Miller Theater with NY Philharmonic's principle oboist Liang Wang as the soloist.
From the beginning of her career, Jie has won enthusiastic critical response. The New York Times described From the Other Sky as "clear, lucid and evocative," and Oboe Concerto as "interesting things to say and intriguing ways to say them." Classicalsource.com thought her concert opera to be "far more fun than one is supposed to have at a concert of 'serious' music." Minnesota's Pioneer Press claimed that Symphony No. 1 is "self-assured" and "fascinating." Reviewers have cited her music as "introspective" (The New York Times) and "scrupulously crafted composition that embraces both Chinese and Western modern classical expression" (Pittsburgh Times Review).
In addition to her successes in concert halls, Jie was named a Schumann fellow at the Aspen Music Festival, where she studied with Christopher Rouse and Marc-Andre Dalbavie in the Master Class program, and a McCracken Fellow at the NYU Graduate School of Arts and Sciences. Other honors include multiple ASCAP Awards, citations from BMI, Opera America, American Music Center, the Pittsburgh New Music Ensemble, a Charles Ives Scholarship from the American Academy of Arts and Letters, and most recently a Koussevitzky Prize from the Library of Congress and the Elaine Lebonbom Prize from Detroit Symphony Orchestra.
Jie is a publishing member of ASCAP. She is a member of Random Access Music—a composers collective based in New York.