/web/aca_visualmedia_music/FERMATA_Spring2010_BrassEnsembleMet_94x60.jpg
Brooklyn College Brass Ensemble Performs at Metropolitan Museum of Art
March 22, 2010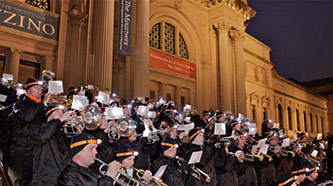 On March 2, 2010, the Brooklyn College Brass Ensemble, under the direction of Professor Douglas Hedwig, performed a special and unique concert at the Metropolitan Museum of Art in New York. Sponsored by the City of Dijon, France, and by the French Consulate, the performance was organized to celebrate the opening of a new exhibit at the museum, entitled "The Mourners: Medieval Tomb Sculptures From the Court of Burgundy."
The Brooklyn College Brass Ensemble was honored to be invited to participate in this special event along with brass students from other major music conservatories in the New York area as well as several professional trumpeters, trombonists, and horn, euphonium and tuba players. The massed-brass ensemble created for this event was named the Dijon Must'Art Band, a play on words that refers to Dijon mustard for which the city is famous.
The 28 Brooklyn College brass players who participated included 15 current students as well as 13 alumni and former students who are now successful musical performers, educators and professionals. Many of these alumni had returned to Brooklyn for this event to help celebrate Hedwig s 25th anniversary as coordinator of brass instrument studies at Brooklyn College.
The performance included the premiere of a new composition written for the occasion by French composer and trumpeter Thierry Caens, of the Lyon National Conservatory, who also conducted the work. Entitled From Dufay to Broadway, the work began with an homage to the late medieval French composer Guillaume Dufay, and metamorphosed into a stylized setting of Broadway show melodies and finally a contemporary-sounding finale that included vocal parts for the brass players. The performance took place on the steps outside of the Metropolitan Museum of Art and was enthusiastically received by an appreciative audience of passersby and invited guests.
Hedwig is understandably proud of his students' performance for this occasion. He remarked, "Through this and other high-visibility recent public performances by our Conservatory Brass Ensemble, we continue to put forth a positive and energetic image of Brooklyn College."
Back to Fermata — Spring 2010