Exciting news of our graduates from at home and abroad
/web/new_2016news/AMIRTHA-KIDAMBI-BY-REUBEN-RADDING1-3.jpg
Alumni News
September 23, 2014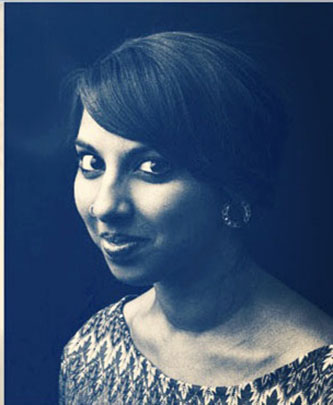 Amirtha Kidambi, M.Mus., voice performance, 2012. On Oct. 3, 2014, soprano Amirtha Kidambi will make her Carnegie Hall debut with the Elizabeth-Caroline Unit in Darius Jones' The Oversoul Manual. She will be joining singers Kristin Slipp, Sarah Dyson Martin and Jean Carla Rodea in performing this work that they have been working on with Jones over the previous two years. Prior to the Carnegie Hall performance, they are performing the work at Greenwich Music House on Sept. 20. Both performances are leading up to the release on Oct. 14 of their album for Aum Fidelity.  
Georgia Lowe, M.Mus., harp performance, 2014. In summer 2014 Lowe was the harp soloist in two special concerts in her native Australia. On June 13 she performed Ernesto Rodrigo's evocative and popular Concierto de Aranjuéz (1939) with the Mosman Symphony Orchestra near her home in North Sydney. In July she performed the concerto again, in the concert series "Harp Legends," at the renowned Sydney Opera House. She studied at the Sydney Conservatory of Music before coming to Brooklyn College in September 2012 to study with harp virtuoso Sivan Magen at the Conservatory. She is back in New York this fall for some additional post-graduate training and performing experiences.
Benjamin Bierman, M.Mus., composition, 2002. Bierman received his tenure and promotion to associate professor in music at John Jay College in fall 2014. In early 2015 his textbook Listening to Jazz will be published by Oxford University Press.
Todd Brunel, M.Mus., 2007, clarinet performance. Brunel is now a member of the music faculty at Wheaton College in Norton, Mass. He continues  to play clarinet and bass clarinet for the Eric Hofbauer Quintet. That quintet just released a double album, Prehistoric Jazz, Volumes 1 and 2, that features jazz versions of Stravinsky's Rite of Spring and Messiaen's Quartet for the End of Time. The CD received a stellar review by jazz critic Kevin Whitehead on the NPR show Fresh Air with Terry Gross.
Yiu-Kwong Chung (known as "Vason" to us),  M.A., percussion, 1983; D.M.A., 1991, CUNY Grad Center. Vason is the general director of the Taipei Chinese Orchestra, which embarked on a tour to Macao and Hong Kong in October 2014. The repertoire included some of his own compositions. For more on Vason's active conducting-performing career, see: http://www.cykusic.com/Ebiography.htm.
Caitríona O'Leary, B.Mus., voice performance, 1994. Janice Gerboth recently heard Caitríona O'Leary interviewed live on WQXR about her newly released CD The Wexford Carols (Heresy Records), an album of traditional folk Christmas carols, featuring guest artists Tom Jones, Rosanne Cash and Rhiannon Giddens. This is the 18th critically acclaimed album for O'Leary, who, with her band, Dúlra, has toured and performed around the world with "intense and passionate performances of Traditional Irish song, folk and early music." Visit O'Leary's website for more news.
Back to Fermata – Fall 2014