The Conservatory mourns the recent loss of members of our family
/web/new_2016news/harold_jones2.jpg
Obituaries
January 22, 2015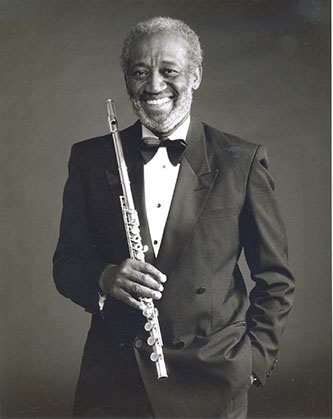 We are always sorry to learn of the passing of current and former faculty, staff and students, and we honor their memories here.
Harold Jones
The Conservatory of Music was sorry to learn on Jan. 18, 2015, that Harold Jones, 80, adjunct assistant professor of flute, had died recently. Jones had been on the department's faculty since 1978. There will be a memorial service at St. Peter's at the Citicorp Building (Lexington Avenue at East 53 Street) on Friday, Jan. 23, from 3 to 5 p.m.
Born in Chicago in 1934, Harold Jones began his musical education as a violin student when he was 10 years old and continued through public school. During the period he heard a student play the piccolo and immediately decided that the flute was the instrument he wanted to play. He then studied flute with David Underwood while attending DuSable High School and won a scholarship to the Sherwood Music School in Chicago, where he studied with Emil Eck. He then became a member of the Chicago Civic Orchestra under George Schick. This was a training orchestra sponsored by the Chicago Symphony Orchestra. His teachers there were Julius Baker and Lois Schaefer.
Jones came to New York in 1955 and was awarded a scholarship to The Juilliard School. While at Juilliard he was the recipient of the Outstanding Woodwind Players Award. In 1957 he was soloist in Town Hall under the eminent conductor Dimitri Mitropoulos. He continued his studies with Harold Bennett and Marcel Moyse, and in 1966 made his New York recital debut at Town Hall, later appearing at CAMI Hall, Alice Tully Hall and Boston's Jordan Hall.  He performed as a soloist with numerous orchestras, including the New York Sinfonietta, American Symphony Orchestra, Brooklyn Philharmonia, National Orchestral Association, Municipal Concerts Orchestra, West Side Symphony Orchestra, Bach Aria Group, New York Philharmonic, and Symphony of the New World (as one of the first soloists in the latter's Carnegie Hall concerts). He appeared at the Yachats Music Festival in Oregon and the Manhattan School of Music International Summer Youth Festival in Taiwan. Jones was also on the faculty of the Westchester Conservatory of Music, Manhattan School of Music, and Manhattanville College as well as Brooklyn College.
He recorded Vivaldi's flute concertos for the Library of Recorded Masterpieces and released four solo albums for Antara Records:  From Bach to Bazzini, Afternoon Fantasies, Let Us Break Bread Together, and Just As I Am. In reviewing one of these recordings, a New York Times critic wrote: "Among today's legion of distinguished flutists, Mr. Jones has little to fear from being compared to the very best in terms of training, experience, or exceptional skill. His breath control is prodigious, his production is smooth as silk, and his musical instincts are refined in a way to make everything he plays sound utterly spontaneous."
From 1976 to 1979 he served as president of the New York Flute Club. In 1993 Jones formed the Antara Ensemble to bring classical music to the Harlem community. Its repertoire included works by American, African American, European and Third World composers as well as spirituals in classical arrangements.
Back to Fermata — Spring 2015