Prestigious award bestowed upon Conservatory faculty member; WQXR and WNET broadcasts will honor grant recipients
/web/aca_visualmedia_music/Michael_Brown_teaser.jpg
Pianist Michael Brown Receives Avery Fisher Career Grant
March 19, 2015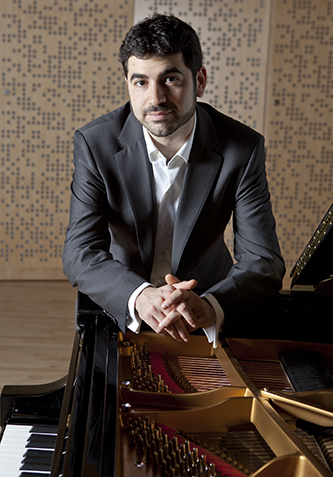 The Conservatory of Music recently received the following announcement from WQXR, which included impressive news about pianist and faculty member Michael Brown:
"Five Avery Fisher Career Grants Awarded for 2015

"On March 18 at the Jerome L. Greene Performance Space at WQXR, Joseph W. Polisi, the program's chairman, Charles Avery Fisher and Nancy Fisher announced five 2015 Avery Fisher Career Grant recipients: Paul Huang, Kristin Lee and Simone Porter, violinists; Matthew Lipman, violist; and Michael Brown, pianist.
"The announcement was followed by performances by all five Career Grant recipients. These performances were recorded for radio broadcast and webstream by WQXR, New York's classical music station, with hosts Elliott Forrest and Robert Sherman, and will air on Monday, April 6, from 10 to 11 p.m. on 105.9 FM and www.wqxr.org. The 2015 Career Grant presentations mark the continuation of a long standing relationship with WQXR, which has been a broadcast partner of these festivities since the first Career Grants were awarded in 1976. Since then, 136 Career Grants have been awarded (including this year's grants), and all recipients are currently working musicians. Former Career Grant recipients identified early in their careers include pianists Inon Barnatan and Joyce Yang; cellist Alisa Weilerstein; violinists Augustin Hadelich and Hilary Hahn; and the Calder Quartet. Showcasing Career Grant awardees for the fifth consecutive year, WNET Thirteen will spotlight 2015 Career Grant recipients on NYC-ARTS."

Past grant recipients have included Joshua Bell, Edgar Meyer, Sarah Chang, Hillary Hahn, Nadja Salerno-Sonnenberg, Ignat Solzhenitsyn, Conrad Tao, Richard Stoltzman, Dmitri Sitkovetsky, Jeremy Denk, Gil Shaham and Conservatory faculty member and Distinguished Professor Ursula Oppens. When congratulated about this rarified honor, Michael could only say, "I'm incredibly honored and excited about it." We look forward to the April 6 WQXR broadcast as well as the WNET NYC-ARTS program in recognition of the five honorees.
Michael, who joined the piano faculty last year as an adjunct assistant professor, also recently won a competition to become a member of the prestigious Chamber Music Society of Lincoln Center Two in 2015, where he will join his longtime collaborator in The Canellakis-Brown Duo, cellist/filmmaker Nicholas Canellakis, who also serves on the Conservatory faculty. Michael's already impressive credentials as performer, both of modern and classical works, and composer continue to grow. The conservatory is pleased to welcome Michael on board and congratulates him on both of these momentous artistic accomplishments.
Back to Fermata — Spring 2015