As Bruce MacIntyre steps aside, the Conservatory thanks him for his extraordinary service while welcoming Stephanie Jensen-Moulton as his sucessor
/web/new_2016news/JensenMoultonteaser.jpg
Changing of the Guard: New Leadership at the Conservatory
July 7, 2015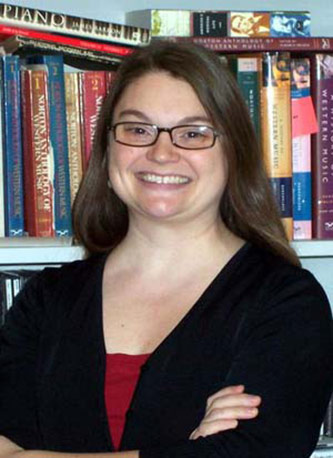 On Tuesday, May 5, the Conservatory held its final departmental meeting of the 2014-15 academic year, at which time elections were held to choose a new chair among other offices. Dr. Bruce MacIntyre, who had just competed his third three-year term as Conservatory Director, had recently announce his intention to step down and the faculty unanimously elected Stephanie Jensen-Moulton to succeed him. We offer our congratulations to Stephanie, who takes over at a crucial time as we anxiously await the completion of our new performing arts center, our move in the coming year, and the exciting opportunities this development presents. Stephanie officially took the reigns on July 1, but Bruce will continue to serve closely during the transition.
Upon passing the baton, Bruce issued the following statement to the department:
"As I step down as your chairperson/director after serving these past nine years, I thank each of you for your past support and for the various contributions of quality you make to our department, its programs, and especially its students.   Lots has happened in the past decade – from the 2008 self-study and PAC planning, to the awful 2009 Great Recession, to the harrowing Jan. 2011 swing-space move, to setting up of five deanships in 2011, . . . etc., to say nothing about the 12+ faculty/staff searches I've had the honor of organizing/leading.  I know each of you will do your best to help and support Stephanie as she assumes her new leadership role – keeping our department one that always knows how to 'harmonize' and keep 'making beautiful music' for this lovely campus, the borough, and beyond."
The faculty has expressed its deep gratitude to Bruce for his many years of service and fierce dedication to the Conservatory during a period of transition and for his strong commitment to students, faculty, and the planning of the of the new Tow Performing Arts Center.
As an Assistant Professor of musicology and part of the H. Wiley Hitchcock Institute for Studies in American Music, Stephanie Jensen-Moulton has published articles on women in hip-hop, the 19th-century piano prodigy "Blind Tom" Wiggins, Pauline Oliveros and other topics in American music. She has presented papers and lecture-recitals at numerous national and international conferences, including national meetings of the Society for American Music and the American Musicological Society. She received a Ph.D. in Musicology and Certificate in women's studies from the CUNY Graduate Center in 2008, winning the Carolyn Heilbrun Prize for her dissertation on Miriam Gideon's 1958 opera Fortunato, which was published by A-R Editions as part of the Recent Researches in American Music Series in 2013. She is a co-editor of the Oxford Handbook of Music and Disability Studies, and a recent recipient of a Whiting Fellowship for Excellence in Humanities Teaching. Jensen-Moulton's current book project focuses on intersections of American opera and disability.
We look forward to this exciting new chapter for the Conservatory and wish Stephanie good luck.
Back to Fermata — Spring 2015