Conservatory's Choral Director named to prestigious post
/web/new_2018news/MalcolmMerriweather_teaser.jpg
Malcolm Merriweather Named Music Director of Dessoff Choirs
May 31, 2016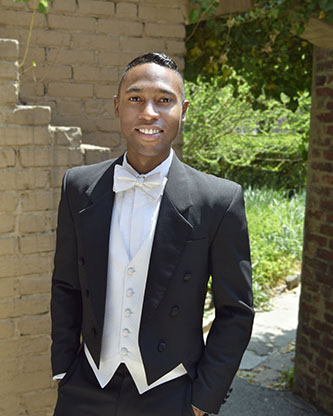 On Thursday, May 26, 2016, The Dessoff Choirs announced that the Conservatory's esteemed director of choirs, Malcolm J. Merriweather, had been named as their new music director. The announcement reads:
"Today we are pleased to announce the appointment of Malcolm J. Merriweather as our ninth music director. His depth and breadth of experience make him the perfect choice for the future of The Dessoff Choirs.
"In Malcolm's own words, 'I am honored to be called upon by the members and Board of Directors to be the ninth music director of The Dessoff Choirs. I remain astounded by the rich history of this institution and look forward to continuing and expanding upon its traditions of bringing great choral music to New York City.'
"In addition to his position with Dessoff, Malcolm currently serves as Assistant Professor and Director of Choirs at Brooklyn College of the City University of New York, and Associate Choirmaster at the Cathedral of St. John the Divine, and the Music Director of the "Voices of Haiti" children's choir in Port-au-Prince, Haiti. He holds his Doctor of Musical Arts degree in Conducting from the Manhattan School of Music. A protégé of Kent Tritle, he was the first graduate of the new doctoral program in conducting. Malcolm recently received the Lotos Foundation Prize, which recognizes individuals for distinguished accomplishments and exceptional talent in the arts and sciences. He additionally holds Master of Music degrees in Choral Conducting and in Vocal Performance from the Eastman School of Music.
"We look forward to the start of a wonderful collaboration with Malcolm and hope you will join us in welcoming him as we look ahead to our 2016–17 season.
"For more information on Malcolm, you can visit malcolmjmerriweather.com or dessoff.org."
As director of the Conservatory's Choral Union and Conservatory Singers, Malcolm has brought great panache and artistry to the program, inspiring his students to reach great heights in demanding performances, such as their recently stunning Whitman presentation of Carl Orff's mighty Carmina Burana, in a setting for chorus, soloists, two pianos, and percussion. His infectious dynamism and joyful music-making were fully on display, both in the clarity of his interpretation and the students' evident responsiveness.
Back to Fermata – Spring 2018