Exciting news of our graduates from home and abroad
http://www.brooklyn.cuny.edu/web/Larry_Bustamanteteaser.jpg
Alumni News
August 25, 2016
Pianist Jonathan Levin, M.Mus. Performance '08, will be appearing at Carnegie's Weill Recital Hall on September 20, 2016, at 8 p.m. and writes:
"Dear friends, Please join me for a special presentation of my American Portraits program at Carnegie Hall, which marks the culmination of a long process of preparation and discovery. The concert features some of my foremost musical influences and the premiere of my very first composition. Included are timeless masterpieces from the past century as well as vibrant new works by living composers. I hope to see you all there!"
The richly diverse program will include classic standards by Jerome Kern, Richard Rodgers, Cole Porter, and George Gershwin; lesser-known pieces by George T. Walker, Caroline Shaw, J. Mark Stambaugh, and Vladimir Drozdoff; William Grant Still's Three Visions; and Jonathan's own Improvisations on a Southern Melody.
Baritone saxophonist Larry Bustamante, B.Mus. Education '14, has embarked on a promising jazz performing career, having gained a quick foothold in the reeds section of Professor Arturo O'Farrill's Grammy Award–winning Afro Latin Jazz Orchestra. As an official member of the group, Larry just returned from a European tour, where they played at the Spoleto Festival, and recently performed at Harlem's famed Apollo Theater.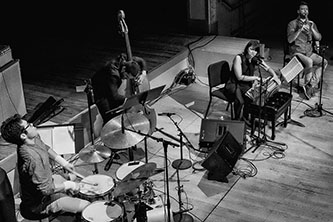 Mezzo-soprano Amirtha Kidambi, M.Mus. Performance '11, and her quartet, Elder Ones, recently received a glowing write-up in the Sunday, September 18 Arts section of The New York Times. They are releasing a record on the Northern Spy label in November, and the jazz critic Ben Ratliff wrote a wonderful preview of the album. Here is a link to the online article (scroll to bottom of the page):
Of the group, Amirtha says, "It is particularly meaningful for me, because the project is my main outlet as a composer. The band features my compositions, with lots of improvising and experimental techniques, with the influence of avant-garde classical, free jazz and Indian music."
Ratliff writes quite effusively of the band and it's maiden recording, "The aggressive and sublime first album by the band Elder Ones, 'Holy Science,' is a kind of gauge for how strong and flexible the scene of young musicians in New York's improvised and experimental music world can be. At the center of it are drones and phonemes. The group's leader, the 30-year-old composer and singer Amirtha Kidambi, holds forth behind a harmonium, the small keyboard instrument with hand-pumped bellows; it's commonly used in bhajan, the Indian devotional-singing tradition that was central to her musical experience while growing up in a South Indian family in San Jose, California For the most part, she's singing wordlessly, improvising like a horn, using seven syllables assigned to different parts of her range. The other band members—the soprano saxophonist Matt Nelson, the bassist Brandon Lopez, the drummer Max Jaffe—strengthen and expand on her scales and melodies, improvising and following loose arrangements. The record is all about time, in the long view; it is a suite with four sections named after the yugas, or eons of cosmic time as described in Hindu mythology.
"Ms. Kidambi has formal training in Carnatic and Western classical music, too, but that's not where her input ends. In a recent conversation about where she came from and where she's going, she discussed the Carnatic singer Sudha Ragunathan; the free jazz of John Coltrane and Albert Ayler; Alice Coltrane's bhajan recordings from the 1980s and '90s; Sarah Vaughan; Black Sabbath; the 20th-century classical vanguardists Varèse and Xenakis; the experimental composer Robert Ashley, with whom she worked toward the end of his life; and Renaissance motets. The common theme through them is a sense of immediacy, or what she called intensity.
"The syllables she sings, basically, are express lanes to intensity. Having struggled with writing words, she decided that they would be an impediment anyway. 'The idea is that I don't have to think about it, because that would hinder my improvising,' she explained. 'I need the easiest, most direct way possible to get to a sound.' She added, 'I don't want anything to be in the way.'"—Northern Spy, November 11
Soprano Anastasia Rege, M.Mus. Vocal Performance '14, has joined the faculty at Bishop Kearney in Brooklyn as a member of the Fine Arts Department, as both music teacher and band director. While at the Conservatory, Anastasia served admirably as choral assistant and mounted an ambitious performance of Giovanni Battista Pergolesi's Stabat Mater for her degree recital.
Pianist Angelo Rondello, B.Mus. Performance  '09, has launched an exciting initiative he has begun in the Seattle area:
"I'm thrilled to announce the launch of Seattle Music Exchange Project's Generosity.com campaign! SMEP has the mission of cultivating connections between cultures worldwide through concerts, residencies and educational programs.
"I've been working on SMEP for over a year now, and it has grown into a partnership between cities, cultural organizations, musicians, and community members. According to Seattle Mayor Edward Murray, 'SMEP acts as a valuable cultural ambassadorship on behalf of our city.'
"Our first season brings together composers of Seattle and Seattle's sister cities in Norway, Hungary, Italy, and Japan. I'll be performing two Benaroya Hall recitals in Seattle, as well as concerts in the above mentioned countries."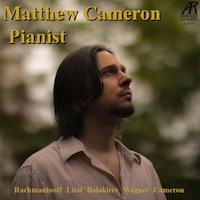 Pianist Matthew Cameron has announced that his latest release for Arabesque Recordings, Matthew Cameron, Pianist, is now up on their website and available on iTunes and AmazonMp3. The album's contents are as follows:
Matthew Cameron: Moonlight
Sergei Rachmaninoff: Prelude in D major Op. 23 No. 4
Sergei Rachmaninoff: Prelude in G minor Op. 23 No. 5
Sergei Rachmaninoff: Prelude in E-flat major Op. 23 No. 6
Sergei Rachmaninoff: Prelude in G-flat major Op. 23 No. 10
Richard Wagner (arr. Franz Liszt): Liebestod
Franz Liszt: Fantasy and Fugue on B.A.C.H.
Franz Liszt: Hungarian Rhapsody No. 3
Franz Liszt (arr. Matthew Cameron): Mazeppa
Mily Balakirev: Islamey
Matthew Cameron: Psalm 23
As evidenced here by this recording, Matthew continues to publish and record his own prodigious arrangements and compositions that stand comfortably among the classics of the Romantic canon.
Back to Fermata – Spring 2018