Event Archive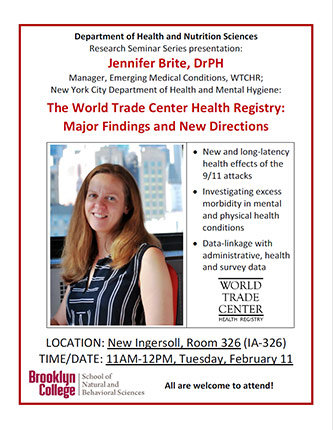 The World Trade Center Health Registry: Major Findings and New Directions
with Jennifer Brite, DrPH, Manager, Emerging Medical Conditions, WTCHR
New York City Department of Health and Mental Hygiene
Tuesday, February 11, 2020
11 a.m.–noon
326 Ingersoll Hall Extension
New and long‐latency health effects of the 9/11 attacks
Investigating excess morbidity in mental and physical health conditions
Data‐linkage with administrative, health, and survey data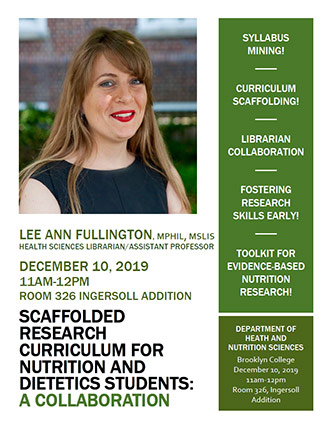 Scaffolded Research Curriculum for Nutrition and Dietetics Students: A Collaboration
with Lee Ann Fullington, MPHIL, MSLIS
Health Sciences Librarian / Assistant Professor
December 10, 2019
11 a.m.–noon
326 Ingersoll Hall Extension
Syllabus Mining
Curriculum Scaffolding
Librarian Collaboration
Fostering Research Skills Early
Toolkit for Evidence-Based Nutrition Research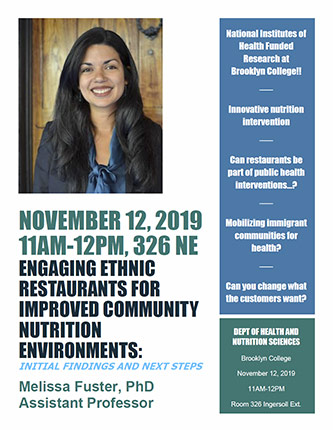 Engaging Ethnic Restaurants for Improved Community Nutrition Environments: Initial Findings and Next Steps
With Assistant Professor Melissa Fuster
Tuesday, November 12, 2019
11 a.m.–noon
326 Ingersoll Hall Extension
National Institutes of Health–funded research at Brooklyn College
Innovative nutrition intervention
Can restaurants be part of public health interventions?
Mobilizing immigrant communities for health
Can you change what the customers want?
Class of 2019 Master's Thesis Presentation and Scholarship Awards Ceremony
Wednesday, May 15, 2019
4:30–7 p.m.
Jefferson-Williams Room, Student Center
Faculty and staff are invited.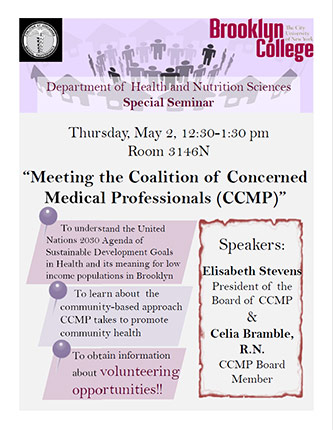 Meeting the Coalition of Concerned Medical Professionals (CCMP)
with
Elisabeth Stevens, President of the Board of CCMP

Celia Bramble, R.N., CCMP Board Member
Thursday, May 2, 2019
12:30–1:30 p.m.
3146 Ingersoll Hall
Come to:
understand the United Nations 2030 Agenda of Sustainable Development Goals in Health and its meaning for low-income populations in Brooklyn,
learn about the community-based approach CCMP takes to promote community health, and
obtain information about volunteering opportunities.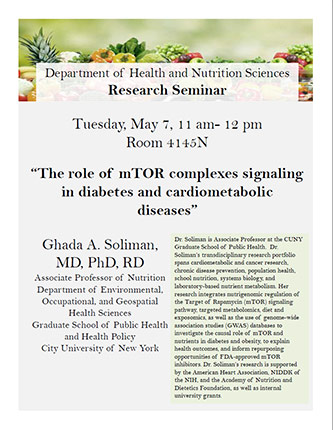 The Role of mTOR Complexes Signaling in Diabetes and Cardiometabolic Diseases
with Ghada A. Soliman, MD, Ph.D., RD
Associate Professor of Nutrition, Department of Environmental, Occupational, and Geospatial Health Sciences
Graduate School of Public Health and Health Policy, City University of New York
Tuesday, May 7, 2019
11 a.m.–noon
4145 Ingersoll Hall
Dr. Soliman is associate professor at the CUNY Graduate School of Public Health. Her transdisciplinary research portfolio spans cardiometabolic and cancer research, chronic disease prevention, population health, school nutrition, systems biology, and laboratory-based nutrient metabolism. Her research integrates nutrigenomic regulation of the Target of Rapamycin (mTOR) signaling pathway, targeted metabolomics, diet, and exposomics as well as the use of genome-wide association studies (GWAS) databases to investigate the causal role of mTOR and nutrients in diabetes and obesity, to explain health outcomes, and inform repurposing opportunities of FDA-approved mTOR inhibitors. Dr. Soliman's research is supported by the American Heart Association, NIDDK of the NIH, and the Academy of Nutrition and Dietetics Foundation as well as internal university grants.