Ortiz-Minaya is an Assistant Professor in the Department of Puerto Rican and Latino Studies (PRLS).
/web/aca_socialsciences_general/CT_Febuary2018_ReynaldoOrtizMinaya_94x84.jpg
Jr. Faculty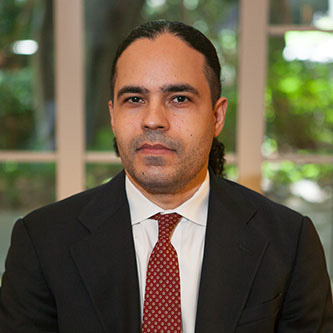 When Mayor Carmen Yulín Cruz Soto slipped into the passenger seat of the car that came to pick her up after dinner in New York with several prominent New York City labor leaders, the driver asked what had been the best part of her day. Was it the dinner with the labor leaders, or was it something that had happened earlier? This particular day had opened in a packed, Brooklyn College gymnasium, where Mayor Yulín Cruz passionately delivered a 75-minute, unscripted speech on the plight of American citizens left with little or no support in the wake of Hurricane Maria.
Mayor Cruz turned to the driver and said, "What I liked best about the day was the private meeting I had after the keynote address, where I got to meet with a group of students privately and listen to them and hear what was on their mind." Her driver was able to take that reply to heart. Brooklyn College Professor Reynaldo Ortiz-Minaya, who sat beside her, had invited Mayor Yulín Cruz to come give that speech at Brooklyn College. Professor Ortiz-Minaya is an assistant professor in the Department of Puerto Rican and Latino Studies (PRLS) and a scholar who examines the intersection of race, class, sociology, and incarceration. Like Mayor Yulín Cruz, Ortiz-Minaya puts his own interaction with students, and his teaching, above all. As Maria E. Perez y Gonzalez, the chair of PRLS, says, it is clear that students see in Ortiz-Minaya "a teacher-activist-scholar who is genuinely concerned for their well-being; he inspires students from all walks of life to reach their potential and treats them with respect."
A decade or so before Ortiz-Minaya took up the lectern in front of Brooklyn College students, he honed his pedagogy on middle-school students, both those who had been left back and those who were denoted as gifted and talented. He also taught young gang members in Los Angeles, students he describes as situated "a step away from being incarcerated." Ortiz-Minaya especially relished working with these at-risk young people who would mask their sense of having been excluded or rejected behind a tough exterior. Students in his middle-school classes were required to line up before entering his classroom and hand in their homework as an admissions ticket. Once in the room, Ortiz-Minaya was willing to devote a quarter of the class time to the greetings. Because of his own gift for remembering names, he greeted each student by name and then it was the turn for the entire class to welcome their classmate to the room. "I expected the students to give 1000% to being there because I myself was giving them 1000% of what I could offer."
When Ortiz-Minaya talks about his path to a career in academia, he always prefaces his remarks with the comment, "I was supposed to become a doctor." His brother, it turns out, became the medical doctor and he became "another kind of doctor." A single book, E.F. Shumacher's Small Is Beautiful: A Study of Economics As If People Mattered, turned his head from sciences, where he did excel, toward sociology. He studied as an undergraduate at Drew University. At this bucolic liberal arts institution, he nearly faced dismissal after being identified as a "threat to the campus." Faculty came to his defense and the charges were dismissed as biased and hearsay. Several years later, Ortiz-Minaya was invited back to Drew to lecture on his current research on "Sugar, Slavery, and Plantation Space in 19th Century Cuba, 1820–1886." During his visit in 2017, the errant son was warmly received.
While pursuing his doctoral studies at SUNY Binghamton, Ortiz-Minaya was an adjunct at the Borough of Manhattan Community College. He then went on to teach as a visiting assistant professor of Africana studies at Hamilton College. His brief time at Hamilton led, in part, to student protests over the lack of faculty diversity at the school. According to Ortiz-Minaya, colleges and universities may over-use visiting professorships and post-doc positions as ways to claim they have diversified their faculty when they could be doing more to show a long-term commitment to developing a professorate more reflective of people of color. He recommends that institutions reach out to new scholars prior to their graduation with their Ph.D.s and actively cultivate the next generation of scholars.
One way Ortiz-Minaya cultivates the scholar in every student he works with is to have them read, no matter what course they are taking, the second chapter of Paulo Freire's Pedagogy of the Oppressed. He urges students "to understand the world and to know the word." Wherever they see incongruence between the world and the word, he wants them to feel empowered to speak up.
Ortiz-Minaya establishes a high bar for all of his students, but does reach out in particular to those in whom he sees special academic promise. These students often elect to do an honors thesis or independent study with him, and find in this Dominican-born, Newark, New Jersey, raised faculty member a kindred and supportive soul who shepherds them expertly to graduate school. Ortiz-Minaya's eyes twinkle at the suggestion that he might be a good candidate for teaching at the CUNY Graduate Center. Yes, the thought has crossed his mind. But in the meantime, he relishes his work at Brooklyn College, where every minute in the classroom counts. A commuter school offers little opportunity for "dinner or coffee with a group after class, where so much learning can take place," Ortiz-Minaya comments with some sadness.
Even while he works at a commuter college, but longs to build local community, this assistant professor can never be confined to one place. Currently his research takes him everywhere around the world, from Pakistan to Jamaica, from the Czech Republic to Louisiana, where he interrogates systems of incarceration and writes about systematic injustices. As Professor Liv Yarrow, who co-coordinated with Professor Ortiz-Minaya the December 2017 "Weathering the Storm" event that brought Mayor Yulín Cruz to Brooklyn College observes, "Working with Reynaldo, I saw how his vocation for social justice and education drove his tenacious, compassionate work-ethic, in close connection to his transformative intellectual scholarship." She concludes, "Reynaldo represents the very best of Brooklyn College, a world-renowned scholar dedicated to empowering his students to serve their communities."
Back to Critical Thinking – February 2018