The School of Humanities and Social Sciences welcomes Assistant Professor Carla Santamaria, a new full-time faculty member who specializes in Latinx diaspora cultural studies.
/web/aca_socialsciences_general/CT_Mar2020_Santamaria_94x84.jpg
Assistant Professor Carla Santamaria, Puerto Rican and Latino Studies' Newest Faculty Member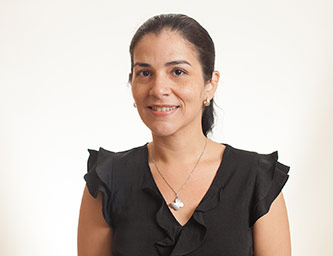 The Department of Puerto Rican and Latino Studies (PRLS) and the entire School of Humanities and Social Sciences is thrilled to welcome Carla Santamaria to Brooklyn College. After many years of being severely understaffed, PRLS was finally able to bring in a new full-time faculty member to advance the department's mission. Though Assistant Professor Santamaria taught here as an adjunct and substitute professor in earlier years, now that she is on a tenure track line she can settle into Brooklyn College and fully contribute to the life of the campus.
Santamaria brings a lot of muscle to the department's teaching power. She covers many of the department's foundational courses, including Introduction to PRLS, The Puerto Rican, Latino, Caribbean Child in New York City, Bilingualism in the 21st Century, Spanish Language Arts for the Bilingual Child, and Biliteracy and Bicultural Perspectives in the Content Areas. One of her areas of expertise is the history and practice of bilingual educational policies with a focus on culturally relevant pedagogy, particularly as it relates to identity development and school success for the bilingual child. In her teaching she very importantly explores techniques for developing listening, speaking, reading and writing skills in bilingual education.
When it comes to her students and the Puerto Rican and Latino Studies Department, Santamaria describes an incredibly valuable relationship. First, she declared her firm conviction that teaching is in fact a two-way street. As she said, "Learning goes both ways, and I learn from my students every day." Furthermore, she stated that every class confirms the critical work of PRLS. She explains that her students declare that when they take a class in PRLS, "they feel validation." They say that the PRLS class they took was the first time they could relate to the material as well as the professor. She shared that every semester there are students who say, "I was about to drop college before I took your class. I didn't feel that I belonged here. And I even contributed to the class from my perspective." She explained that the media has stigmatized and stereotyped Latinx students and their culture so much that it means everything to them to be introduced to an intellectual context for their culture and to have its legacy addressed from an academic perspective.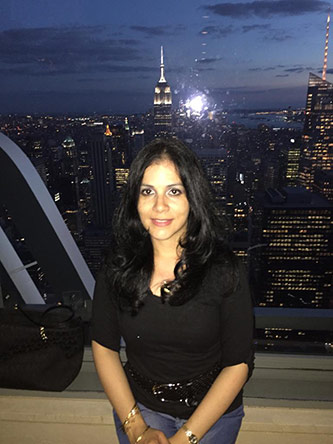 Background
Working in the community to advance a social justice agenda has been an important part of Assistant Professor Santamaria's life. She planned, coordinated, and oversaw afterschool supplemental academic instruction program for low-income students in grades K–12. At Pearls of Hope in Brooklyn she conducted seminars on peer pressure and identity formation and organized workshops for non-Euro-American-origin youth to develop their confidence. At Adelante Alliance in Sunset Park, she conducted workshops on popular education for the immigrant community and organized activities to develop a sense of leadership among the female immigrant sector. Early in her years as a graduate student, she volunteered to conduct workshops to develop conversational skills, medical vocabulary, and Spanish grammar to help ensure that physicians could help their patients in emergency and other lifesaving situations at the Stony Brook University Medical Center.
But college teaching is Santamaria's chosen career, and she comes into her new position with a wealth of teaching experience. At SUNY-Albany she taught in the Department of Latin American, Caribbean, and U.S. Latino Studies. In her Caribbean History course, she delivered lectures covering the pre-Columbian era to current events, highlighting economic expansion, political evolution, and cultural development. At SUNY-Albany's Department of Languages, Literatures, and Cultures she taught Elementary and Intermediate Spanish. At SUNY-Stony Brook, in her own graduate Department of Hispanic Language and Literatures she taught Spanish I and Spanish II. In all of her courses she introduced innovative instructional methods including music, television broadcasts, and political documentaries to improve Spanish language comprehension and introduce Latinx cultures into the courses.
As mentioned above, Santamaria is no stranger to Brooklyn College, having done an earlier turn as a member of the department from 2010 to 2015. In those five years, some of them while still a graduate student, she contributed a great deal to PRLS, serving as adjunct lecturer, adjunct assistant professor, and then substitute assistant professor. During those early years she perfected her pedagogical skills as she offered classes on Puerto Rican and Latinx history, culture, society, and politics in both Caribbean and U.S. contexts. Her courses explored the cultural trajectories of Puerto Rican culture as well as different perspectives related to colonialism, race, gender, and identity. She reviewed the impact of European colonization in Latin America as well as Puerto Rican and Latinx migration to urban centers in North America. And finally, her lectures discussed controversies surrounding contemporary identity politics, religion, and social movements in 21st-century Latin America.
But without an offer of a permanent position at Brooklyn College, she went on to Bunker Hill Community College in Boston, where she served as associate professor and chair of the Department of Foreign Languages. As chair, she redirected the department's mission to a cultural wealth and asset-based approach. To help bring the department more in line with that concept, she introduced an initiative to rename the department to the Department of Languages and Cultures and thus encourage cultural diversity and inclusion. And, of course, as chair, she hired and mentored faculty and coordinated advising and assessment.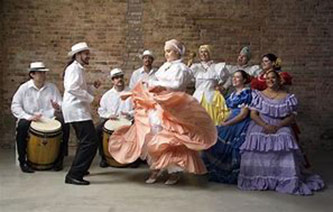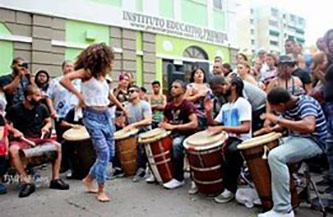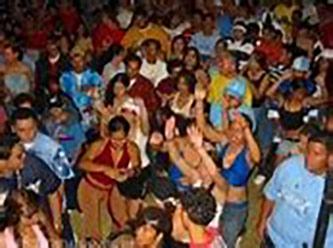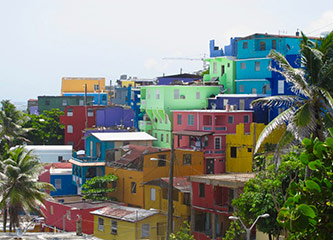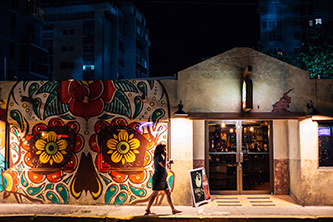 Research
Assistant Professor Santamaria's areas of research include urban studies, decolonial theory, cultural studies, and cultural wealth infused bilingual education. She related that she has a passion for studying popular culture and explains that popular culture is a mirror into analyzing the history and culture of the people of the Caribbean region, especially, but not exclusively, Puerto Rico, Cuba, and the Dominican Republic. Her dissertation, Boricuas isleños y nuyorriqueños: La construcción de identidades puertorriqueñas a través de la poesía de calle, analyzes "street poetry," one of the many forms of expression that marginalized groups use to escape from the raw realities of the system of oppression in which they find themselves. In her thesis, Santamaria explored how cultural manifestations created in the Latinx diaspora such as Nuyorican poetry and musical forms such as reggaeton have impacted the contemporary poetry and music of Puerto Rico. Her dissertation explores how the cultural manifestations of the Puerto Rican diaspora are changing Puerto Rico's traditional music and poetry, and she found that the creators of Puerto Rican culture, even if they are from rural areas, can relate to the realities of poverty, dispossession, and social inequity experienced in urban neighborhoods whether in San Juan or New York. At the same time, these manifestations grew out of folk culture, but have been commercialized, eroticized, re-packaged, and often negatively affect the identity formation of its very creators and consumers.
In general, Santamaria's research focuses on decolonizing academic analyses of Latino cultures, which have so often been stigmatized when viewed with the Euro-centric gaze. Her articles in progress include, "Not Only the Sons and Daughters of Freedom Call You Preciosa: Deconstructing Distortion in Puerto Rican Cultural Nationalism" and "Perreando and Combatiendo: The Role of Popular Culture and Marginalized Sectors in the Puerto Rican 2019 Summer." The latter paper describes the events of the summer of 2019 and explores how the masses used indigenous forms of popular culture to force the governor of Puerto Rico to resign. Her work reflects her contention that manifestations of popular culture like poetry and reggaeton are documents like any other, but that they have been stigmatized because they are analyzed from a simplistic Euro-centric gaze (i.e. the eyes of the colonizer). She is in a constant debate with those who insist that existing scholarly models are the only way to analyze popular culture while she seeks to construct new, decolonized theories to evaluate Latinx popular culture.
An Active Member of the Department
As soon as she stepped foot on the campus as a full-time tenure track assistant professor, Santamaria's department needed her help for the many service commitments of a small department. So, during her very first week, she took up the challenge of being a Faculty Council alternate, and then when one of the department's senior members went on a much-needed sabbatical, this first year she has stepped in as her department's Faculty Council delegate. In the department, she serves as co-adviser for bilingual education concentrations, and a member of the Academic Integrity and Grade Appeals committees. And of course, she has been helping to plan next fall's Encuentro, the department's annual awards and culture program, serving as an adviser for the Don Quixote Annual Leadership Award given to an individual or organization who has made a significant contribution to the Latinx community. Indeed, Santamaria described how rewarding it is for her to contribute her talents to the Puerto Rican and Latino Studies Department, aware of the impact she can make here. In fact, asked why she wanted to come to this department at Brooklyn College, she replied, "PRLS gave me the space to actually express my passion and make the difference in the life of others through the passion I feel for Latino studies and for social equity." Brooklyn College is lucky to have this young, energetic, and dedicated professor to continue the mission of the department in this its 50th year.
Back to Critical Thinking — March 2020