Learn about the Department of Sociology.
/web/aca_socialsciences_general/CT_November18_Sociology_94x84.jpg
Departments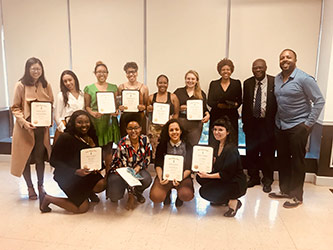 Department of Sociology
Although the Brooklyn College strategic plan encourages interdisciplinarity in program development, and faculty themselves are eager to bring disciplines together for the sake of collaborative research, there have been times in the history of the college when disciplines sought their own separate space and identity. Sociology is an example of such a department, and it has traveled a measured path to its current position. Sociology, along with Anthropology, were both a part of what is now the Department of Political Science. The late Belle Zeller served as chair at the time. The Brooklyn College Department of Sociology and Anthropology, on off-shoot of the Department of Government, was formed as a separate department in 1941, under Conrad M. Arensberg. Arensberg served as chair from 1942 to 1946. However, by 1965 during Harry D. Gideonse's presidency, both disciplines went their separate ways. The Department of Sociology emerged with a singular identity under the leadership of Professor Alfred McClung Lee. Professor Laura Kitch served as chair of the department from 1993 to 1997. She pre-deceased her husband, professor of English, Jack Kitch, in 2011. The academic couple left behind a future for students who major in either sociology or English to have their tuition covered under the Kitch Scholarship. Professor Naomi Braine is the current chair of the Department of Sociology.
Students and faculty in Sociology share a particularly strong bond. The student Sociology Club has provided many opportunities and events to allow these bonds to develop. As a sign of its commitment to activism and students' rights, in spring 2018 the Sociology Club championed to make the campus NYPD and security free. They were joined by Professor Naomi Braine, who has experience as a social justice activist, and Professor Alex Vitale, whose area of expertise is on criminology and social movements. Currently, the Sociology Club, in collaboration with other clubs, is focused on advocating for students facing various discriminatory situations on and off campus. Upcoming Sociology Club events will build on the content of two classes, the Sociology of Hip-Hop, taught by Professor Donna Lee Granville, and the Sociology of Astrology, taught by Professor Lawrence Johnson. This semester has seen a number of instances, online most notably, that have left many students not feeling safe or feeling discrimination. The Department of Sociology is eager to offer students a safe space. Further, using the Sociology Club as the connection, the faculty want to collaborate with students on development of a set of principles that will be honored in all sociology classes.
The Sociology Department faculty are very active in many areas:
Assistant Professor Ying-Yi Diana Pan is currently the adviser for the Sociology Club and undergraduate deputy. She is beginning research for a second book and advising a high school student for the NYC Science Competition. In addition, she is working with other professors to start a program in Asian American studies.
Professor Gregory Smithsimon is the graduate deputy. He recently published Cause: … and How It Does Not Always Equal Effect and is co-editor of book reviews for the journal of the American Sociological Association, City and Community. He is also on the editorial board of Metropolitics.
Associate Professor Emily Molina is on the General Education Committee helping design classes for Brooklyn College. She is the School of Humanities and Social Sciences representative to Faculty Council and is part of the Urban Sustainability Steering Committee. She manages outcome reports and assessments for the Sociology Department to see how students fare in their classes.
Professor Tamara Mose is the director of Mellon Mays Undergraduate Fellowship, which attracts minority students and others who will be pursuing doctoral degrees. She is also the organizer and chair for the Charles Lawrence II Memorial Lecture Committee, a member of the Rosen Fellowship, and is currently researching her next book.
The Department of Sociology is eager to introduce more students to sociology. The department hopes to give students the tools to understand and to think critically about the world around them. According to Professor Braine, "Sociology gives students the intellectual tools, not only to think about how the world needs to change, but also the tools to work to change society in order to build the world they want to see."
Like many other departments, the Department of Sociology is most supportive of and strong for its students. It continues to offer courses that give students the life-changing knowledge they can use for the future.
Back to Critical Thinking — November 2018