Urban Sustainability major plans to do medical research on environmental impacts on disease
/web/aca_naturalsciences_general/CT-October21-Fang-01-94x84.jpg
Student Profile: Ching-Shiuan Fang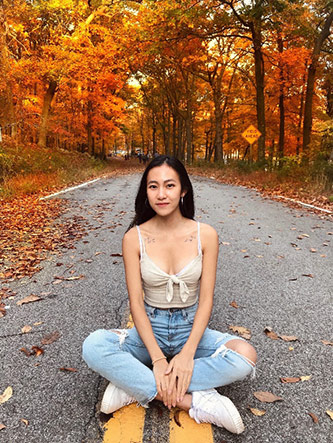 Ching- Shiuan (Sunny) Fang is a New York native who is in the Brooklyn College BA/MD program, and is planning to complete her education at the SUNY Downstate College of Medicine. She is currently an Urban Sustainability major with a concentration in Sociology, and is set to graduate from the program in 2023 and then go on to attend SUNY Downstate. Although her time on campus was short lived due to the pandemic, she has tried to make the most out of the situation and now continues her remote learning in California.
Ching- Shiuan's passion for urban sustainability started in high school where she was co-chair of the environmental science club. There she noticed the lack of environmental science classes and the absence teaching and learning about sustainability. This was the catalyst for her academic pursuits, i.e. to find an institution which would be able to provide her with the information she needed to pursue her intellectual curiosity regarding sustainability. That is when she found the Brooklyn College Urban Sustainability program, which was a perfect fit for her academic journey. After she joined the program, she started to work with program director, Professor Rebecca Boger, helping to re-design the Urban Sustainability department's website. This involvement helped Ching-Shiuan be recommended to represent the Urban Sustainability (SUST) program in the Humanities and Social Sciences, Dean's Student Advisory Board where she got more involved with her peers in the Urban Sustainability program, sharing ideas and concerns that would benefit the entire Brooklyn College community. There she was able to give the students' perspective on school issues and be a voice for all her peers within her major. She considers this role to be one of her great successes from her time in the program thus far.
Students in SUST are expected to participate in an internship as part of their program. Ching-Shiuan's hard work in the major led Professor Boger to recommend her for a RPA (Regional Planning Association) internship where she participated in a large research project sponsored by the Regional Planning Association to research and recommend policy changes regarding e-commerce, especially e-commerce waste. The internship largely focused on having the interns research all the aspects that went into e-commerce and what the detrimental factors were that impacted the environment and community. Ching- Shiuan was able to use her prior knowledge and her research skills to build a well thought out, impactful summary of the team's findings and explain every facet in e-commerce and how to make it more sustainable. Her full project and PowerPoint are available to the public on the Brooklyn College Urban Sustainability website.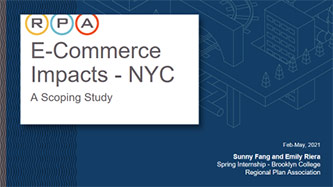 E-commerce is the selling of goods via electronics and the internet, without physically going out and supporting your local business. The e-commerce project honed in on the impacts that e-commerce has on the economy, the community, the environment and transportation. Ching-Shiuan was able to gather information that would address the issues involved and explore ways that companies can lessen the impacts that their e-commerce policies have on the environment and the people within those environments Ching-Shiuan makes a great point that "You don't see what's beyond the screen, you only see the "add to cart button," which is generally what 80 percent of consumers focus on, the initial joy of buying things at face value."  But, in fact, e-commerce has made a drastic impact not only environmentally but also socially. Ching-Shiuan's project noted how e-commerce affects the working people and how unsafe working conditions for warehouse workers and drivers lead to accidents and illnesses. These safety issues are directly related to the sheer demand from the consumers which in turn causes a rushed and hazardous environment for disposable employees.
Along with e-commerce comes massive increases transportation-which increases pollution, traffic and worker/bystander safety issues. Increased transportation thus leads to massive amounts of air pollution in some areas. They note this in the project by saying that, "Truck pollution affects the respiratory system, worsening or inducing medical issues and areas such as Mott Haven in the South Bronx where many Black and Hispanic/Latinx residents are experiencing environmental inequality as a result of air pollution." Mott Haven neighborhoods in particular, have asthma rates that are 20 to 30 percent higher than in other wealthier areas. Thus, the data confirms that environmental injustice continues to disproportionately affect Black and Latinx residents. Ching-Shiuan goes on to say, "The most important point about sustainability to me is that sustainability isn't just about saving the environment or making everything recyclable or compostable. It's a social justice issue." Her research ultimately allowed her to conclude that the effects of e-commerce are not only greatly impacting the planet but are directly having huge negative impacts within our own communities.
Ching-Shiuan and the others involved in the e-commerce project were able to find some solutions that could help lessen the impact on the environment. In the project, they note that sustainability legislation is in place to ameliorate this problem by taxing the big companies and funneling that tax money back into the local economy, which should in turn help impoverished neighborhoods and small businesses.  Ching-shiuan's research also revealed that companies like Etsy and Ikea are committing to a zero-emissions delivery regime that will help relieve some of the environmental issues caused by e-commerce.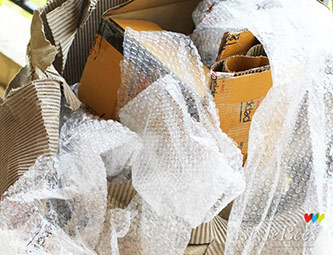 The need for recycling also plays a big role in e-commerce due to the amount of packaging that comes along with it. This is where consumers can step in and make sure they take the initiative to recycle the waste from all their online purchases. Larger companies like Amazon have directions on how to properly recycle their packaging but it is quite unclear how one would be able to find that information on the website. Although these companies are "trying" to become greener, they ultimately still need to be pushed harder to put those green initiatives at the forefront of their relationship with consumers.
The booming e-commerce industry creates an overall hierarchy that has large companies and CEOs profiting from it at the top of the chain, then people who are the factory and transportation workers, who are at a disadvantage at the bottom of the chain, and consumers who rest somewhere in the middle. Finding a way to address the problem has proven difficult given the complexities of how the industry is structured. For example, the issue of air pollution in small communities has yet to be tackled given that the people within that community rely on the jobs that e-commerce creates in their area.  All of these realities lead to social class divisions that prevent environmental discourse, which ultimately affects the planet, and its people, in the worst way possible.
After working for the RPA in the e-commerce project Ching-Shiuan came up with an idea to mesh her love for the medical field with her love of urban sustainability. Her ultimate goal is to be able to take her love of medicine and her love of environmentalism and combine the two. She hopes to one day create a biological way to detect environmental factors that cause illnesses in people within certain communities. That research alone could be grounds to push  major legal constraints on large companies. While that dream may take a while to come to fruition, in the meantime she finds time to continue her academic pursuits while balancing them with her personal interests.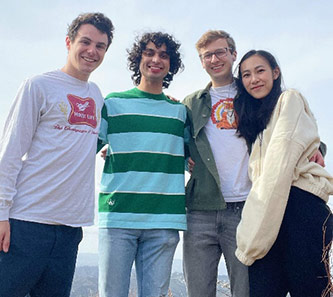 Since Ching-Shiuan has moved out to the West coast, she fills her free time traveling to different national parks to hike the scenic terrain and see the world around her. This undoubtedly inspires her ongoing efforts to help the environment and proactively think of new ways through which the public can push for greener options in all areas of life. Ching-Shuian states that she would like to become a teacher of medicine or sustainability who shows students how environmental impacts can drastically affect a person's health. Ultimately, she intends to spread awareness among more people in the medical field who need to explore the environmental issues that surround their patient's community and affect their health.
Back to Critical Thinking — October 2021