Playwriting
Playwriting Alumna Annie Baker Wins MacArthur Genius Grant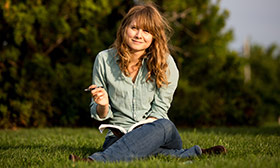 Playwriting alumna Annie Baker has been named a 2017 MacArthur Foundation Fellow. Baker is a playwright exploring the complexities of human behavior and the ways in which language is often inadequate to build true understanding between people. With a keen ear for the subtleties of everyday speech, a masterful command of dramatic structure, and a willingness to allow silences to linger on stage (often to a point of discomfort), she brings to life the erratic rhythms of human interaction.
Photo: John D. & Catherine T. MacArthur Foundation
Erin Courtney, Program Coordinator
Shakespeare's colleague and friend Ben Jonson wrote: "What a deal of cold business doth a man misspend the better part of life in! In scattering compliments, tendering visits, gathering and venting news, following feast and plays, making a little winter-love in a dark corner."
The playwriting program at Brooklyn College was started over 30 years ago by Jack Gelber, one of America's most important experimental writers. The current director of the program, Mac Wellman, is endeavoring to continue that tradition, while seeking to embrace the widest definition of that concept.
The playwriting program is dedicated to the proposition that writing for the theater is not a business of finished thought and dead rules. Rather, we endeavor to pursue kinds of writing that involve an ongoing conversation with theater of the past and (hopefully) the future. To this end, we encourage our M.F.A. playwrights to become students of the theater in every sense: to follow the current scene as well as study the classics from as many traditions as possible; to study the techniques of making theater as well as theory; and lastly, to become as well-read as possible in all the written arts, with special emphasis on what is most contemporary, most challenging, most alive. It is our conviction that each generation must reinvent a theater appropriate to the time; a theater the time deserves; a theater that refuses to settle for the merely tendentious, and the dreary dead hand of the already known.
We are looking for aspiring writers who follow the theater because they love theater and all that pertains to theatricality. Theatricality diversely considered, rotated in four-dimensional space. We are looking for writers unwilling to settle for less. We believe the gathering of diverse people, ideas, and cultures strengthens both our insights into the work we present on stage and our relationships with each other.
Here at Brooklyn College we cannot provide a little winter-love in a dark corner. But we do offer a great deal of play-following, and a good deal of vigorous and hopefully cogent discussion of the theater in these complex and often bewildering times.
Talk to an Alumnus
If you have questions you would like to ask students in the program, feel free to contact the following alumni: