Apply
Tour Brooklyn College Over February Break!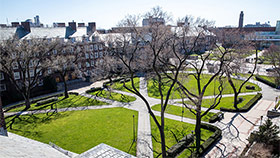 The best way to decide if Brooklyn College is for you is with an in-person visit.
This month, we'd like to invite you onto campus to experience the college for yourself.
We'll introduce you to current students, and you can hear from them first-hand the many reasons why Brooklyn College is consistently ranked among the best colleges in the nation.
Becoming a Brooklyn College Student
Applying for admissions and scholarships at Brooklyn College has never been easier with our online applications. There are different application forms for undergraduate, graduate, transfer, and international students, so be sure to complete the correct one, and pay close attention to submission deadlines. We also have an admissions team ready to talk with you about admission requirements, the application processes, and campus visits.
Residency Information
Scholarships