Graduate Admissions
Propel yourself to the next level of scholarship with cutting-edge computing and research labs; a well-stocked library with more than 1.5 million volumes, e-journals and research tools; and more than 70 programs in business; education; the humanities and social sciences; natural and behavioral sciences; and the visual, media and performing arts. With our resources and extraordinary faculty, many of whom are respected authorities of their fields and have won prestigious awards and grants, the world of scholarly research and expertise is yours for the seizing.
Just for Graduate Students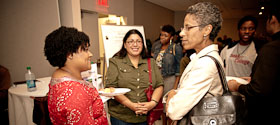 Attend one of the information sessions tailored specifically to graduate students.
How to Apply
If you hold a bachelor's degree from an accredited institution, or you're an international student with the equivalent to a U.S. bachelor's, we encourage you to apply for admission to one of our master's programs, advanced certificate programs or nondegree studies. Our online forms make applying easy.
Apply Online
Check Your Application Status
Graduate Admissions Deadlines
How to Finance Your Education
Brooklyn College offers a range of rigorous programs at a very affordable tuition rate. Tuition and fees can vary depending on your student classification type and where you reside, but there are plenty of options available to finance your education, including fellowships, awards, prizes and loans. Let us help find the right one for you.
Go to Tuition, Fees and Payments
Go to Financial Aid
Helpful Resources
Contact
Office of Graduate Admissions 
2900 Bedford Avenue, Brooklyn, NY 11210
P: 718.951.5001| F: 718.951.5076
grads@brooklyn.cuny.edu