Transfer Students
Switching schools in the middle of your college career can be a great option if you are coming to us from a community college after obtaining your associate's degree, need a more affordable option, or just found your former university unfulfilling. Transfer students make up nearly half of our student body, so we've become experts at making your transition a smooth one. Our admissions team is always available for counseling, and with tools like the BC Transfer Credit Tool at your fingertips, you can be on your way to mapping out your future here at Brooklyn College in no time.
Campus Visit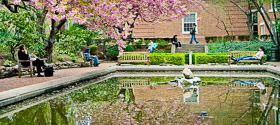 Walking tours of the campus, led by student guides, are available every weekday at 10 a.m. and 3 p.m.
How to Apply
Applying and fee payment have never been easier with our online Transfer Application.
Application Deadlines
Application deadlines vary by semester and program. Please visit our application deadlines website.
How to Finance Your Education
Brooklyn College offers a range of rigorous programs at a very affordable tuition rate. Tuition and fees can vary depending on your student classification type and where you reside, but there are plenty of options available to finance your education, including scholarships, awards, prizes, and loans. Let us help find the right one for you.
Financial Aid Deadlines
Application deadlines vary by program and package. Please visit our financial aid website.
Contact
Office of Undergraduate Admissions
2900 Bedford Avenue, Brooklyn, NY 11210
222 West Quad Center
P: 718.951.5001 | F: 718.951.4506
E: adminqry@brooklyn.cuny.edu