Athletics
Making the Goal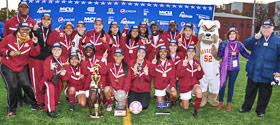 Our women's soccer team wins the CUNYAC Championship and advances to the NCAA Division III championships!
You shouldn't spend all your time in the classroom. In fact, we encourage you to exercise your body as much as your mind. Between classes, go shoot some hoops, swim a few laps, or take a couple of runs around the track. You might consider joining one of our men's and women's intercollegiate teams. Brooklyn College competes in National Collegiate Athletic Association (NCAA) Division III, and we are especially known for our champion basketball, cross country and softball teams.
If you just want to make friends and have some fun, check out our intramural program. The Division of Recreation, Intramurals and Intercollegiate Athletics organizes one-on-one events, free-throw and three-point competitions, and co-ed team sports such as softball, volleyball and tennis. If you'd rather not join a team at all, we invite you to use our new recreational facilities in the West Quad Center on your own schedule. From our well-equipped fitness center to our eight-lane swimming pool, you'll find lots of way to relax and burn off some calories before, after and between classes.