Anthony Mancini, director of the journalism program, travels around the world while writing his latest book about the French military leader.
/web/new_2012news/120301_AnthonyMancini_94x84.jpg
Following the Ghost of Napoleon Bonaparte
March 1, 2012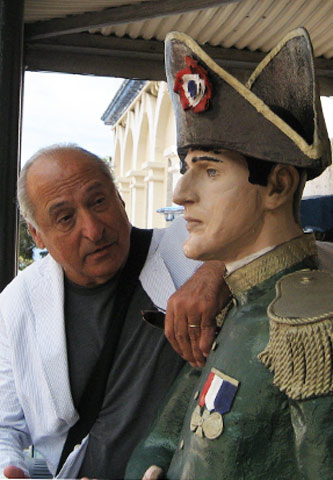 Anthony Mancini read more than 100 books about Napoleon Bonaparte, and traveled for months through multiple continents and time zones to get to one of the most isolated places in the world — St. Helena, the remote island in the South Atlantic Ocean believed to be the place of Bonaparte's death in 1821.
Mancini, director of the journalism program, is pursuing the ghost of Bonaparte for his latest book.
"I travel a rutted road," he wrote in an e-mail from Argentina, the last stop on his journey. "More books have been written about Napoleon than any other figure in history, but I am compelled to do this because his life story has become an obsession with me."
Mancini's book, Napoleon's Ghost, will differ from other works about the French military leader. His book is a hybrid of literature, mixing his personal memoir with history, Napoleon's biography and fiction.
"Every incident, person, quote and fact will be lifted from the historic record and woven into the tapestry of a narrative," Mancini wrote. "I hope it will give readers new insight into a man who many believe is the greatest figure to breathe God's air in the second millennium."
Using the author's voice in the narrative allows Mancini to swing through time and space, and helps with recreating the most important events of Napoleon's life as well as "sketching the myriad characters who walked across the stage of his dramatic adventures, from Beethoven to Madame de Stael."
Mancini's fascination with Bonaparte began years ago, after reading a description of his captivity. He then started to read more books and articles about Bonaparte and eventually visited his birthplace in Ajaccio, on the French island of Corsica; his tomb at Les Invalides, in Paris; and the Bonaparte Museum, in Rome. But the narrative about Bonaparte's life with emphasis on his last years at St. Helena needed a necessary inspiration — a trip to the island.
Mancini's journey started last October, when he and his wife, Maria Cellario-Mancini, boarded a Dublin-bound plane at JFK airport. After four days in Ireland, they took a ferry and a train to London.
At the British Library, Mancini read 200-year-old manuscripts about Hudson Lowe, the governor of St. Helena, who acted as Napoleon's jailer.
"The scripts were difficult to read, written as they are in cursive blotted ink from another age," Mancini wrote on a blog documenting his travels. "Though it was tedious, I had fun, mining no great hidden lode but little nuggets of detail I had not known before."
The next destination was Cape Town, South Africa, from where they boarded a ship that visits St. Helena just once a month. The voyage took them five days to reach the remote island and five days to come back.
Mancini and his wife stayed in the island's only town, Jamestown, from where they toured all the Napoleonic sites — the Briars, where Napoleon stayed for about eight weeks as the Brits were preparing his house; Longwood House, where he lived for six years and died; and Geranium Valley, which was the site of Bonaparte's tomb before the body was relayed to Paris 19 years later.
"It was a unique experience, one we will never forget," Mancini wrote. "Where he died is the most obvious place to find his ghost."
Despite the amount of works he read, his trip to the island and visit to the British Library definitely helped him with writing the book.
"I learned a few tidbits about Old Toby, the Malay slave he befriended while he was there and a major character in the projected book," he said.
Mancini has already completed three chapters and an outline of 40 pages, but he still has seven large notebooks filled with notes and snippets as well as numerous documents and materials to go through.
"I have been writing this book in my head and on paper for seven years," he said. "It is a never-ending, exhausting project, and I dearly love it."
Mancini admitted the book will be long, but he does see an appropriate time for when it will be finished.
"I hope to time its publication for sometime before the bicentennial of Waterloo in 1815," he said.
Professor Mancini's article about St. Helena, "In the Footsteps of Napoleon Bonaparte," will appear soon in The New York Times Travel section, accompanied by his wife's photos. You can follow Mancini's adventures by reading his blog.
Back to BC News