Professor and alumna are tapped for changing the way the world looks at women.
/web/new_2012news/120326_ResearchCouncilHonorsTwoBrooklynCollegeWomen_94x84.jpg
Research Council Honors Two Brooklyn College Women
March 26, 2012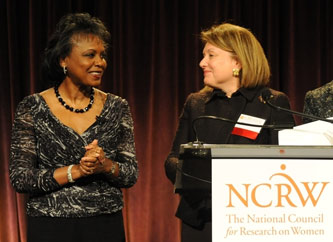 If the global society views women differently, from a more enlightened perspective, much of the credit can be assigned to Marge Magner '69 and Associate Professor Barbara Winslow, two of 30 leaders who were honored by the National Council for Research on Women. The distinction put them in the company of luminaries like CNN reporter Soledad O'Brien and law professor Anita Hill.
Magner and Winslow were nominated by their peers and received their award at a dinner earlier this month.
"It was just pure joy to be in the room with so many talented and dedicated women," said Magner, director of Accenture, a management consulting and technology services company, and chairman of Gannett, the publishing company. In her many years in the finance industry, Magner has championed many issues, such as microfinancing and community development, that have a big impact on women.
Winslow, an associate professor in the School of Education and the Women's Studies Program and the founder of the Shirley Chisholm Project, said that as a founding member of the research council, it was humbling to receive the award.
"To receive any recognition from such an extraordinary organization is in itself an honor," she said. "I was blown away and very moved."
Magner also had the opportunity to present Hill with her award. "That part really meant a lot to me," said Magner, a member of the Brooklyn College Foundation's board of trustees and the chairwoman of the current Foundation for Success fundraising campaign. "On the whole, it was just a wonderful evening."
Back to BC News