Graduate programs score high on widely cited lists.
/web/new_2012news/120413_USNewsAndWorldReportRanksBrooklynCollegeAmongTheBest_94x84.jpg
U.S. News & World Report Ranks Brooklyn College Among the Best
April 13, 2012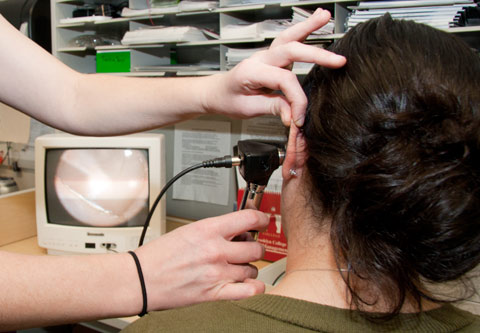 Four Brooklyn College graduate programs garnered national attention when U.S. News & World Report selected them for its newly released annual rankings of the best graduate school programs in the country.
Faring best on the 2013 lists, which are split into disciplines, is our clinical doctoral program in audiology, which placed 37th. The program is administered by the CUNY Graduate Center.
Experts in the field of audiology from the Department of Speech Communications Arts and Sciences serve as faculty for this doctoral program as well as a master's program in speech-language pathology, which also made the 2013 list. Professor Gail Gurland, who oversees graduate programs for the department, says it's no surprise and credits its graduates as the reason. "Look at the list of alumni from our program. It's like a who's who in the field," she says.
Also making the top 100 is our master of fine arts program, which ranked 93rd.
"I would put our students up against anyone," says Maria Ann Conelli, dean of the School of Visual, Media and Performing Arts. "They do amazing work. They are extremely competent and creative artists. They are not looking to emulate someone else's work. They are willing to experiment and explore. And they take advantage of the New York arts scene and all that it has to offer."
The college's graduate program in psychology was also included by U.S. News & World Report among the best in the country.
The rankings are based on the selectivity of the programs, quality assessments from other administrators and faculty members, and the success of each program's graduates. They are widely cited in the mainstream press and used by prospective students as a tool to help chose a program.
In 2012, U.S. News & World Report included Brooklyn College in its lists of best colleges, ranking 17th among public regional universities in the northeast.
Back to BC News