Student club travels to Honduras and Panama to work alongside doctors and distribute much-needed medicine.
/web/new_2012news/120425_GlobalBrigadeGroup_94x84.jpg
Students Bring Medical Help to Developing Nations
April 25, 2012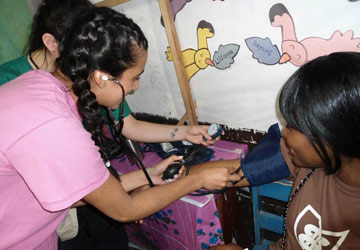 Sabia Akbar's hands trembled as she wrapped the blood pressure cuff around her patient's arm. It was her first day serving in a rural clinic in Honduras as a member of Brooklyn College's Global Medical Brigades. Along with the club's 24 other members, Akbar was just beginning a four-week journey to bring health care and medical supplies to a needy outpost in a developing country.
A pre-med student in her junior year, Akbar tightened the cuff, began to squeeze the pump, and concentrated on the instrument's numbers.
"I had practiced on friends to prepare for the trip," she says. "But now I was doing the procedure for the first time on an actual patient. I was so scared because you want to get it right for them."
Now a senior and vice president of the club, she considers her Honduran experience last summer the start of her medical training. The blood pressure test she performed that day — an everyday procedure in the United States — was uncommon for the Honduran clinic, and that  gave Akbar an appreciation for the disparate level of care between developed and developing countries, and how even the simplest measures she took would make a difference in someone's life.
"People think I know more about medicine than I do, but it's not until you're actually in medical school that you learn how to care for someone. That day in the clinic was my first exposure to actually helping someone, and it was amazing," she says.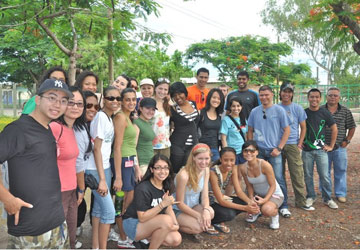 Akbar's experience that day in the clinic, beginning to understand the impact of medicine and having the opportunity to assist doctors in a real -world setting, is one of Global Brigades' most valuable outcomes. Global Brigades is a nonprofit international organization that promotes student-led health and sustainable projects such as medical care, clean water and affordable housing initiatives. It relies on student groups at colleges and universities to recruit volunteers to run the programs. After establishing a Brigades presence on campus, students then must build a strong community that will have the stamina and means to finance their mission and complete their goals. Global Brigades operates in Honduras, Panama and Ghana, and has more than 300 chapters in colleges and universities across the country that focus on its various initiatives. Columbia University, for instance, fields a micro-financing team; Johns Hopkins and Duke University concentrate on water infrastructure; and the University of Chicago centers on public health initiatives.
Brooklyn College launched its chapter when Elizabeth Cusick, at the time a sophomore majoring in health and nutrition sciences, transferred to the college and decided to form a medical brigade. "There was one at my previous school, and I couldn't see why Brooklyn College shouldn't have one, too."
Cusick worked with Jessica Huang '11 to submit a club proposal to the college's Student Activities office, but, although it was accepted, the office was skeptical that the students would be able to put together such a complicated endeavor as an overseas trip to a Third World country. In fact, while the club attracted more than 40 students, the leaders found it daunting to manage the group and organize everyone's vision.
The club's second year was better. Most surprising to the club's organizers was that interest to join came not just from science and premed students, but other majors as well, including anthropology, business, psychology, modern languages and music. Some signed on for the humanistic nature of the trips. Others saw it as a way to experience another country. Still others considered the opportunity to live for a few weeks in a Spanish-speaking country a means to understand their own culture.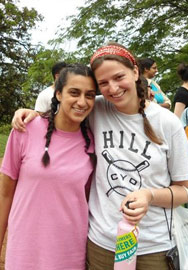 The students' organizational skills gradually strengthened, and a managerial system took shape. Each fall the club elects an executive board whose members are responsible for recruiting physicians, obstetricians and dentists who will accompany the group on the trip and act as teachers, mentors and clinicians. Other board members oversee fundraising, grant writing, and soliciting donations of supplies from both hospitals and medical and pharmaceutical companies. Throughout the year, the club holds campus bake sales, dinners, karaoke nights at local bars and even zumba lessons to raise additional funding.
Sarah Pinsky, a new member of the club, is training to become a full member of the executive board next year. Throughout this year, she has been active in organizing the Brigades' next trip to Panama in June and helping to raise the $20,000 necessary to support the 26 members who will travel with her, an effort that includes an upcoming Panama dinner and 5K race.
For Pinsky, the Brigades is a chance to take what she has learned in the classroom out into the world. "With a background in anthropology, I see the trip as an opportunity to understand another people's culture. And if you can understand that, then you can help them."
For more information about how to become a member of the club or to make a donation, visit the Global Medical Brigades website or send the Brigades an e-mail.
Back to BC News