Deborah Shanley was tapped largely because of her work in the community.
/web/new_2012news/120502_DeanofEducationHonoredByAlmaMater_94x84.jpg
Dean of Education Honored by Alma Mater
May 2, 2012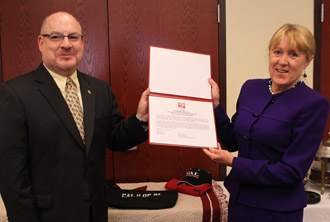 Deborah Shanley, dean of the School of Education, recently received the 2012 Alumna of the Year Award from the California University of Pennsylvania's School of Graduate Studies and Research. 
Shanley returned to the university where she received her master's in education in the rural town of California, Penn., about an hour south of Pittsburgh, to receive the honor.
"I hadn't been there since I graduated," she said. "It was humbling. I didn't think they were tracking what I was doing."
The university cited Shanley's efforts to connect academe to the community as a big reason she was selected for the honor. In her time at Brooklyn College, she has forged several partnerships with local schools and community organizations like the Lincoln Center Institute Teacher Education Collaborative and the National Parks of New York Harbor.
"It took me by surprise that they had gone so deep into the alumni to see who really embraced the mission of the college and then went on to demonstrate it in their actions," Shanley said. "I was especially pleased that they recognized what I have been doing in communities because that has really been at the heart of my work."
She partly credited the university for inspiring that drive.
"They didn't sit around and pontificate," she said. "They tried to instill a real sense of social responsibility and integrity in those that have been prepared to serve. That's what I try to stand for."
Back to BC News