Film festival features the best of Brooklyn College student films in a 30-year retrospective.
/web/new_2012news/120612_Film-Festival_94x84.jpg
Symphony Space Hosts 30th Annual Film Festival
June 12, 2012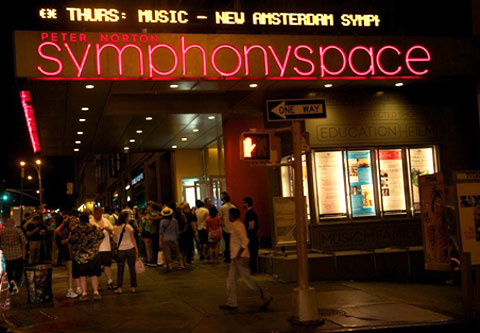 When the lights went down at Symphony Space, the Upper West Side performing arts center and home to the 30th Annual Brooklyn College Film Festival, the student films on display felt like labors of love crafted by hardworking, talented filmmakers-in-training. The films spanned numerous genres —documentaries, thrillers and comedies along with a lavishly produced World War II drama and a stop-motion short on the perils of writing. The festival also featured an opportunity to look back as a retrospective unspooled, highlighting memorable works from the past 30 years.
Few of the films bore the amateurish earmarks that plague some student films. Instead, they were full-fledged professional short works of art, tightly composed and often admirably well acted. If you eyed the credits carefully, several names popped up time and time again — trusted students who had established a reputation as go-to people for young directors seeking cinematographers, assistant directors or sound designers. Notable graduates also lent their time, crewing on films even though they were out of school, for experience or to help out a friend.
Following the screenings, faculty from the Department of Film presented a host of awards, received rapturously by a large crowd that included friends and family members. Matthew Manna took home an award for Outstanding Achievement in Directing for his subtle, heartfelt drama Homecoming, which also won the Audience Choice Award. Meanwhile, Vincent Cross received an Outstanding Achievement in Screenwriting award for his elegantly written romantic drama My Night With a Prostitute. Lena Zakoretskaya's Sunday at the Village a documentary portrait of an aging artist, won her the Outstanding Achievement in Documentary Filmmaking award. The producing award went to Savva Sveshnikov, director of Confession, a massive World War II moral fable. The prolific Andrew Reardon and Michael Biunno took home awards for Sound Recording and Design, while Michael Cucinotta and Charles Alexander won for editing and cinematography, respectively.
A definite standout was Avtandil Chachibaia's Smell of Old House of Ours, an experimental documentary film and a semi-finalist for the Student Academy Awards. Chachibaia's work is also notable for being accepted into the Cannes Film Festival Short Film division, a first for Brooklyn College.
The awards were accompanied by prizes ranging from expensive editing software to equipment rentals to a cash award. The faculty also honored film studies majors and outstanding academic achievements.
Back to BC News