Students from around the globe marched at the three commencement ceremonies.
/web/new_2012news/120613_InternationalGraduates_94x84.jpg
The Whole World on One Campus
June 13, 2012
For many international students at Brooklyn College, commencement was more significant than it might seem — most of them mastered the art of speaking and writing English in just a few years and were proudly holding their American diplomas while posing for pictures with their families, many of whom had traveled for days in order to attend the commencement.
"I still remember the first night when I arrived at JFK and here I am graduating from college and ready for my career," said Jin Lee, an international student from South Korea. "It feels so good!"
Lee came to New York five years ago to study English. After a year spent taking ESL classes, Lee enrolled in the Department of Health and Nutrition Sciences. On May 31, Lee and her family, who came on a 14-hour flight from Seoul, celebrated her biggest achievement — a diploma from an American university.
According to the Office of International Student Services, at least 60 international students graduated in June. Most of them applied for optional practical training (OPT), which allows them to remain in the country for one year to work in their field of study.
"It is truly a journey for these students," said Shirma Cunningham, who advises international students, reminds them about deadlines for specific documents, and assists in obtaining benefits for which they are eligible to apply. "Many of them are away from their families and need somebody they can talk to and trust."
The distance between their families and their new life in New York is, indeed, one of many challenges international students have to face. Lee didn't see her parents for four years. She missed all of the birthdays and holidays, but more importantly, she didn't know that her parents were sick.
"They didn't tell me because they didn't want to worry me," she said, adding that another problem she faced while studying in the United States was the change in the learning style.
"In Korea, most of the study is focused on class lectures and textbooks, but here I had to learn from class discussions and group work," she said. "I always thought that my classmates didn't have the patience to listen to my poor English. But after a while I realized that the student body at Brooklyn College is very diverse, and that language is not a barrier for friendship or learning."
In fact, the college's student body represents 136 countries and speaks nearly 100 languages.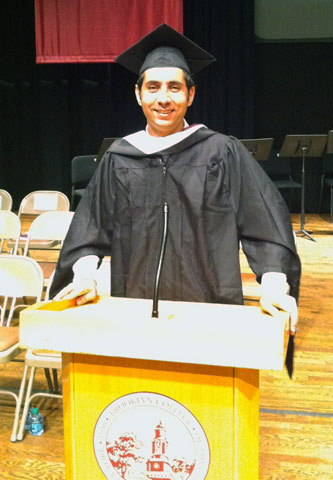 Orhan Top, an international student from Turkey, found the group work helpful. As a former student of industrial engineering with a bachelor's degree from Uludag University in Turkey, Top knew a lot about subjects that his classmates found extremely difficult. That is why he conducted group study sessions in the library, helping his friends understand calculus, algebra, econometrics and microeconomics.
"Some of my classmates told me that they wouldn't have graduated if it weren't for me," Top said just a day after receiving his master's degree in global business and finance. "But they didn't realize how much they helped me. I could speak English with them."
Top came to New York five years ago and enrolled in a language school in Manhattan with the intention to improve his English-language skills.
"I had a cultural shock. I felt like I came from a different planet," he said. "Speaking a different language is like driving a car — once you learn the basics you can do the rest."
Now, Top can proudly present his degree from Brooklyn College.
"I made it! " he exclaimed. "I got a degree in a foreign language, in a foreign country. I made it!"
Top is maintaining his student visa by using the OPT option to work as a business adviser at the Small Business Center, a program in the School of Business, but he hopes to extend his stay in the States by being sponsored by an employer. If it doesn't happen, Top will have to return to Turkey.
Lee will also use the OPT option — she hopes to get a paid internship or a job with a one-year contract. By the next summer, when her OPT expires, Lee will travel back to South Korea.
"I adapted to the life in New York, but Korea is in my heart," Lee said.
Back to BC News