Andy Goldberg Collaborates With Tony Award Winners Alan Cumming and John Tiffany.
/web/new_2012news/120705_AndyGoldberg_94x84.jpg
Graduate Student Co-directs Macbeth With Industry Heavyweights
July 5, 2012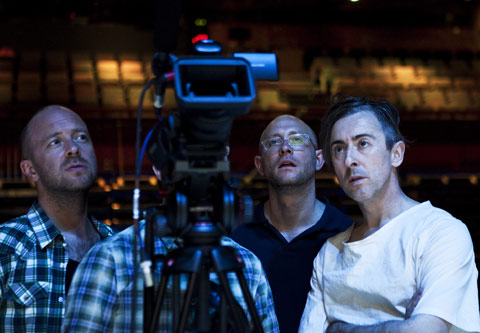 Andy Goldberg, a self-described theater practitioner for the past 20 years, has turned his bold idea about staging Macbeth as a one-actor play into reality. After a hugely successful run at the National Theatre of Scotland, the play opens the Lincoln Center Festival today.
Goldberg is co-directing the production with John Tiffany, who won the 2012 Tony Award for Best Direction of a Musical for Once. The production stars Alan Cumming, who has won several awards, including a Tony for his 1998 performance as the emcee in Cabaret.
"I've always loved Shakespeare," says Goldberg, an East Coast native who moved to California with his parents after graduating from high school. It is his passion for the Bard that took him to work for the Oregon Shakespeare Festival right after graduating with a B.A. in English from Stanford University in 1993.
Two years ago, Goldberg shared with Tiffany his decade-old idea of staging Macbeth as a soliloquy. His goal was to strip away the political and historical elements from Macbeth in order to delve into the mind of the murderer. Thus, the play has no battle scenes, no period costumes and only one actor. It is pure storytelling.
Goldberg's production is staged in a psychiatric ward where Macbeth has been admitted. The character reenacts and recaps, in Shakespeare's original words, the tragedy of the king of Scotland. Cumming plays all the characters, and it becomes challenging for spectators to decide whether the character is Macbeth recounting his deeds or a man in the twilight of his sanity.
Since 2004, Goldberg has directed several of Shakespeare's plays, including Romeo and Juliet, A Midsummer's Night Dream and Twelfth Night for La MaMa, as well as Daddy Cool and Gabba Gabba Hey, a musical about the Ramones that allowed him to work Tommy Ramone.
With his love for Shakespeare and directing undiminished, Goldberg started in 2005 what he called the "Shakespeare Gym Workout" to train actors in classical acting job. Soon he realized that to pursue his passion for teaching in a more traditional, collegial setting, he needed an advanced degree. That's when he discovered the Performance and Interactive Media Arts program at Brooklyn College.
"There are no other programs like it," admits Goldberg, who is scheduled to receive his M.F.A. degree in spring 2013. Being exposed to classmates who had interdisciplinary backgrounds helped him rethink the relationship between theater and the other arts, as well as technology's relationship to the arts. "Its influence has changed the way I think about virtually everything."
Back to BC News