Former female wrestler Ember Skye Kane-Lee explores gender issues in the sport thanks to a 2012 Rosen Fellowship.
/web/new_2012news/120730_KaneLee_94x84.jpg
Wrestling With Gender Stereotypes
July 30, 2012
The wrestlers on the mat circle each other, locked in a battle of strength and skill. They grab at each other, vying for points for takedowns, reversals and exposure. Neither will surrender until one wins by fall, technical superiority or decision. And when the victor's arm is raised, she'll have every reason to be proud: She's one of the meager 2 percent of U.S. wrestlers who are women.
Women's wrestling has had a bumpy history, and "the topic of female wrestling is one that has never been written about from a research standpoint," says Ember Skye Kane-Lee, a Brooklyn College junior and former high school wrestler with a history of violence and harassment from her male opponents.

Intrigued by the tiny number of women in the sport and the challenges they encounter, she proposed her research topic to the Rosen Fellowship Program committee. She was awarded $5,000 to investigate it further.
Kane-Lee used the fellowship funds to travel to Colorado, where she attended the women's Olympic tryouts, and to Michigan, where she observed a college-level tournament. She is writing a research paper, which she hopes might turn into a book.
"In wrestling, anyone who doesn't fit the masculine image is actively discouraged from joining," explains Kane-Lee, who holds a black belt and wrestled for five years before graduating from high school. "As a result, female wrestlers tend to face gender violence, sexual harassment and alienation from their own teams."
The 21-year-old sociology major experienced that herself, when she was the only female in her high school group and competed mostly against men.
"When I was in a tournament, a guy touched my chest inappropriately," she recalls. "My instinct was to respond with violence."
Kane-Lee had to put a lot of effort into earning the respect of her male teammates.
"It wasn't handed to me," Kane-Lee says, adding that as a female wrestler she had to prove that she was not the stereotypically weaker female. "You have to work harder to be as strong as men, but it's possible and that's what I did."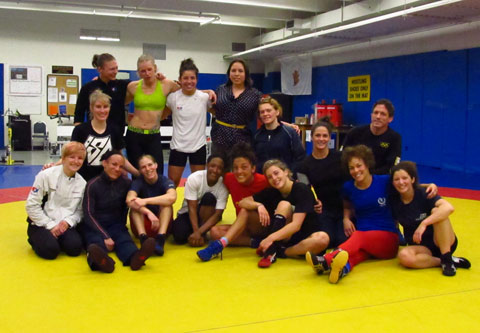 After speaking to the wrestlers in Colorado who were hoping to qualify for Team USA for the Olympics, which introduced women's wrestling only in 2004, Kane-Lee realized that they went through similar problems as she did. Just like her, most of them had practiced and competed against boys until they began college.
"They were hurt, they had broken bones, they were beaten up by their teammates," Kane-Lee says. "It was obviously done to discourage women from continuing with the sport. Almost like a message: 'You're not welcome here.'"
In order to maintain confidentiality, Kane-Lee couldn't discuss the details of the interviews she conducted with the Olympic hopefuls, but that doesn't seem to faze her. "I am not concerned with their names and titles," she states. "I don't really care about that as much as I do about the stories that are behind them.  They deserve to be shared and studied so in the future these problems can be eliminated."
At Eastern Michigan University, instead of interviewing wrestlers, Kane-Lee watched college-level women wrestling during the United States Girls' Wrestling Association tournament.
"Women are just as aggressive as men when competing, but after the match is done, they tend to show more emotions than men would," she says, noting that some women wrestlers were crying when they lost.
Kane-Lee's two trips were made possible by the Rosen Fellowship, which she used to buy plane tickets, book hotels and rent a car.
"The whole experience of traveling to the Olympic training center in Colorado Springs and interviewing the team was just surreal," Kane-Lee says. "When I was young, I always wanted to see where the Olympians trained."
Although Kane-Lee is still an undergraduate, she has already begun thinking about getting a Ph.D. in sociology and concentrating on sports gender at the University of Southern California.
Back to BC News