A graduate student comes just short of making the London Olympics.
/web/new_2012news/120814_Olympian-Jane-Vongvorachoti_94x84.jpg
There's Always 2016
Aug. 14, 2012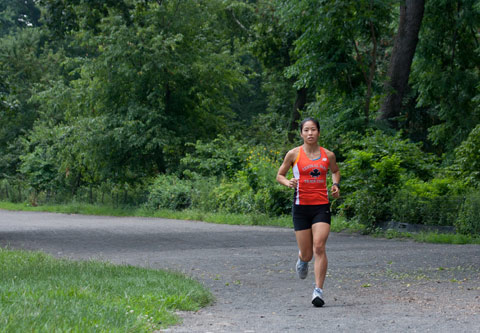 Jane Vongvorachoti went into her race that spring morning feeling great. About three hours before the start, she had a peanut butter and jelly sandwich and a banana and then, with about a half hour to go, she had a little GU — a gel blend of carbohydrates, amino acids and electrolytes that endurance athletes take. She warmed up with about 15 minutes of jogging drills and headed to the starting line.
"I was feeling really confident," says Vongvorachoti, a graduate student in the physical education teacher program.
For the first 20 miles of her marathon, which she was running in Ottawa, Canada, the location of one of a handful of races from which the Thai national team would consider times for Olympic qualification, she was right on pace.
Then she got a cramp in her right hamstring and Vongvorachoti knew soon afterward that her dream of competing as a marathon runner in the 2012 London Olympics for Thailand would likely not be realized.
"Sometimes race day doesn't turn out the way you want it to," she says plainly a couple of months later, her steely demeanor eclipsing any sense of disappointment.
It was all so unreal anyway. Vongvorachoti, 28, first considered competing as a runner on such an elite level only within the last couple of years. Soccer was her first love. She had played practically since she could run and kick a ball around, and grew up, on Long Island where she was born, competing at a high level. A dual citizen of Thailand and the United States — her parents were born in the former — she ended up playing professionally for the Thai national team and a regional team as well, but two years ago she decided she had maxed out her potential with the sport.
"With soccer, the opportunities just aren't there for women after a certain point," she says during a break before a summer course. "But with running, there's always a new goal to chase. And most people peak in their mid-thirties, so I've still got some time to improve and gain the kind of experience that will help me compete better."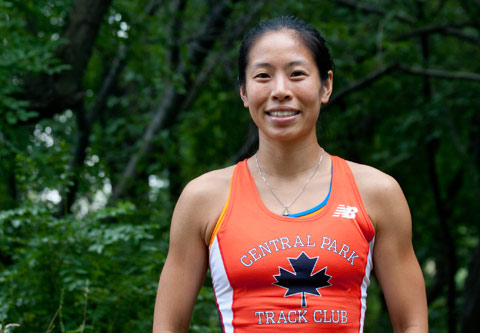 Vongvorachoti had never really run competitively but ended up walking on to the track team at St. John's University, where she earned her bachelor's degree, after her eligibility for soccer was over in her senior year. Despite just a month of pre-season training, she placed in the top three in every race.
A few years later, after she had quit soccer, a friend convinced her to run in a half-marathon for charity. She trained for about six weeks and came in 10th place out of more than 4,000 runners. Two weeks later, she earned second place in the Staten Island half-marathon. That got her invited to the USA Track and Field Club Cross Country Nationals, where she competed in the 6K and finished better than half of the top elite runners in the United States.
She was starting to get noticed.
"I knew I was doing well, but I had no idea how well until someone told me I was beating all these records," she says.
That someone was an official from New York Road Runners, the premier running organization in the city (which is responsible for the ING New York City Marathon), and those records were ones held by the Thai national team.
After doing some digging, she found out that she held six records in Thailand. With the help of her coaches at the Central Park Track Club, which she had joined, she decided to train to see if she could earn a spot on the Olympic team for her parents' homeland.
And that brought her to Ottawa.
She was trying to beat a time of 2 hours, 43 minutes. The 6 minute and 15 second per mile pace she was maintaining up until mile 20 was perfect. When that right hamstring started cramping, she first told herself to push through it. "Maybe it will go away," she thought.
Two miles later, she knew it wasn't going to happen, but she wasn't about to quit. She finished at 2:59.
After the race, she met some runners from Kenya — a country long renowned for its athletes' dominance in long-distance races — and spoke with them about training techniques.
"They told me I didn't take enough GU," she says, adding that they also invited her to train with them in East Africa. "It was a good learning experience. I know better what to do now, and I know I am capable of doing it."
She admits she cried after the race but looks back at it with no regrets. "I left feeling more inspired than disappointed," she says.
And she still has her sights on the 2016 games in Rio de Janeiro.
"Four years is a long time, but I have broken it into many goals," she says.
Chief among them is graduating. She has a semester of student teaching and two to three more classes to take before she will earn her master's degree. She plans to teach physical education at the high school level and to coach soccer. She has even promised Brooklyn College Athletics officials that she would teach some clinics for the student athletes.
She will also run in as many big races as she can. She is currently eyeing the Pan Am Games and the 2013 Southeast Asian Games, for which she could run for Thailand.
"I think it's going to be that much sweeter in 2016," she says. "Maybe I could even have a shot at medaling. Who knows? With each competition, my experience and my confidence grow. I never thought I would be here in the first place, so I'm learning to never say never."
Back to BC News