Health and nutrition majors season their education by cooking dishes from around the world.
/web/new_2012news/120827_Food_94x84.jpg
Health and Nutrition Students Get a Taste of World Cuisine
Aug. 27, 2012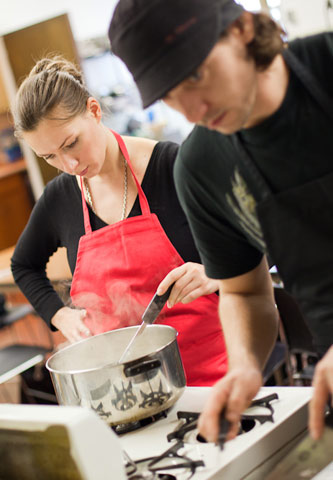 On weekday afternoons during the academic year, tantalizing aromas waft through the open doorway of 111 Roosevelt Hall and float along the hallway, alerting passersby to the preparation of exotic dishes inside the room.
Some days the mouth-watering scents derive from the cuisine of medieval or modern Europe, or the native dishes of Mexico or Africa, or the tasty menus of China or Japan. On other days the aromas remind the olfactory cells of Native American specialties or colonial-era favorites from different regions of the New World.
"This is where we conduct the two-hour lab portion for the course Foods of Diverse Populations," explains Erika Lesser as she removes various foodstuffs from shelves and distributes them around the room. Lesser joined the faculty in the Department of Health and Nutrition Sciences after 10 years working in the nonprofit food sector. The course is required for all students majoring in health and nutrition sciences.
The room is large and airy, with windows along the outside wall and racks of cooking vessels, utensils and foodstuffs against the other three. The floor area is taken up by rows of stoves, sinks and countertops holding cooking gear — enough for a score or more of students to work in pairs.
On this particular afternoon the smells emanating from the lab speak of the richly spiced cuisines of the Indian subcontinent. Scattered among the workstations are 16 members of a class preparing to cook a meal consisting of dishes native to India and its northeast neighbor, Bangladesh. (See "A Taste of Bangladesh," below.)
Foods of Diverse Populations meets all the wide-ranging requirements of the regulatory body that governs those who want to become registered dietitians, according to Assistant Professor Clifford Rouder, the department's deputy chairman for undergraduate studies.
That rule-making body is the Accreditation Council for Education in Nutrition and Dietetics. "Registered dietitians and others in the health and nutrition field may often have to deal with people from all parts of the world and very different cuisines," Rouder explains. "As a result, they have to know as much as possible about these various dishes."
"We are not trying to turn our students into great chefs," cautions Lesser as she wends her way from one workstation to the next, encouraging the students.
"The purpose of this course is to allow students to familiarize themselves with all the different kinds of ingredients that go into cuisines from around the world — the carbs and the proteins as well as the spices and flavor-enhancers that make up the foods eaten by people in different regions — and to learn how these ingredients work together."
Students explore one or more issues that are particularly relevant to food cultures. The course starts with a review of the development of agriculture and the varied foodways of the Old World, then continues by exploring the Middle Ages and the rise of table manners. Other class work revolves around the ancient foodways of the Americas and the "Columbian Exchange," the process that introduced foods native to the New World to the inhabitants of the Old World and vice versa. Such subjects as New Orleans cooking, turn-of-the-century cuisine, and pickling and preserving are among other topics covered.
Lab work generally flows out of the course work, with students working together on preparing meals from recipes typical of an individual cuisine.
During the lab session on cuisine of India and Bangladesh, for example, students cooperated on producing a meal of parathas, a flaky Indian bread; pudla, a chickpea flour pancake; paneer chat, a fresh cheese snack; baigan bharta, an eggplant paté; nadan kori kootan, a country chicken curry; bhindi bhaji, okra with dried prawns; ghiya raita, a zucchini raita; and leeli chutney, a green coriander and peanut chutney.
"The course helps students, especially nutrition majors, choose their careers," says graduate student Phatcharee Lueyot, who, before taking the course, had already decided to follow the career path of a registered dietitian, working in a hospital, community center or private practice.
Lueyot notes, "We usually had lectures about particular food cultures prior to the cooking labs. Then, in the kitchen we learned about the particular cooking techniques and ingredients that belong to that culture. These experiences provided me a clearer understanding of food cultures and ways in which humans around the world have adapted foods to their diets."
Sophomore Zeeley Brudermann, who took the course in the fall, says that he plans to "pursue a career as a registered dietitian doing either freelance writing or counseling, or as a sports nutritionist for athletes."
The Foods of Diverse Populations course, Brudermann notes, "will help me in whatever career I choose. It has allowed me to gain insight into a key part of a person's culture: food. I was able to not only learn about the food and flavors that various cultures employ and enjoy, but also to have the experience of making and tasting such foods."
He adds, "This is important because being able to relate or have some knowledge of a very personal aspect of another's culture helps to break barriers and make others feel more relaxed — something that is very important in one-on-one counseling."
"Besides the fact that we're from different cultures," explains junior Olive Russell, "the basic ingredients remain the same. Some might use different spices to give their food different flavors, but in the end it all comes down to us eating the same things, just prepared in different ways."
A Taste of Bangladesh
The recipes below make up a traditional Bangladeshi meal. They were provided by Nohad Parvin, a health and nutrition sciences major who plans to graduate after the fall semester. Parvin learned these recipes firsthand, in her family's kitchen.
| Bhuna Khichuri (Rice and Lentils) | |
| --- | --- |
| 1 cup vegetable or canola oil | 1-1/2 cups daal (red split lentils), thoroughly washed |
| 1 large yellow onion, chopped (to make about 1 cup) | 1 large white potato, peeled and diced (to make about 1 cup) |
| 1 tbsp ginger, blended to a paste or finely minced | 1 tsp tumeric powder |
| 1 tbsp garlic, blended to a paste or finely minced | 5 rice cooker cups water |
| 2 to 3 bay leaves | 3 tsp salt (or more, to taste) |
| 1 cinnamon stick (break open to check for dirt/bugs, then rinse) | 2 to 3 fresh small green chilies (use less or omit, if preferred) |
| 3 rice cooker cups (rice cooker cup = 3/4 standard cup measuer) Basmati rice, thoroughly washed | |
Over medium heat, warm the oil in a large pot. Add the chopped onion; fry for one minute. Add ginger, gralic, bay leaves and cinnamon stick, and fry for one more minute.
Add rice, lentils and potatoes; fry for two to three minutes, stirring constantly so the mixture does not stick to the bottom of the pot.
Add tumeric powder, water and salt, and green chilies if using them. Cover the pot and cook over very low heat until rice is done properly, about 25 minutes. Sprinkle the fired onions (see below) on top and serve with omelet.
| Fried Onions | |
| --- | --- |
| Vegetable oil for frying | 1 large yellow onion, sliced into long slivers (to make about 1 cup) |
Heat about one inch of oil in a frying pan. Fry the onion slivers until they are golden brown and crisp, then remove with a slotted spoon. Drain on a plate lined with paper towel. Set aside until the rice and lentils are done.
| Bengali-style Omelet | |
| --- | --- |
| 4 eggs | 2 to 3 fresh green chilies, minced |
| 1 large onion, chopped | Salt, to taste |
| 4 sprigs fresh cilantro, chopped (including tender parts of the stems) | Vegetable oil for frying |
In a medium-sized bowl, beat the eggs. Then add onion, cilantro, chilies and salt. Mix everything nicely.
Over medium heat, warm the oil in a nonstick frying pan. Pour in mixture and cover pan for one minute. Then flip mixture over and cook for another minute or so. When the mixture turns a little brown, it is ready to eat.
Back to BC News