Theater student Ashley Brockington embraces her creativity and finds structure and community at Brooklyn College.
/web/new_2012news/120910_Black_Woman_Triumphant_94x84.jpg
Black Woman Triumphant
Sept. 10, 2012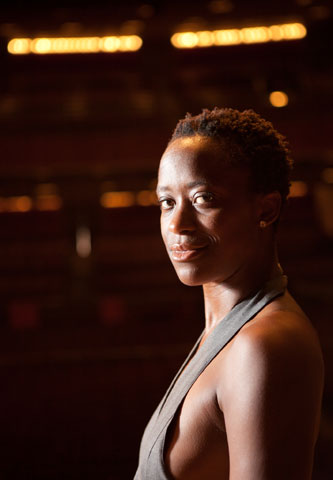 Sophomore Ashley Brockington is a natural-born performer.
From dancing, singing and acting in talent shows and plays in elementary school to conceiving and directing her own creative works, Brockington knew from the very beginning that the world was nothing more than a great big stage, despite not feeling confident about her artistic talents because her parents preferred that she focus on more traditional endeavors.
"I never affirmed my own artistry," she says, believing at one time that art might have been frivolous compared to other scholastic responsibilities. With the support of her parents, she cultivated her intellect while attending esteemed private boarding schools, but she couldn't shake the feeling that she was missing her purpose.
"I wanted to do my own work, even if I wasn't exactly sure what shape it would take."
Years later, outside of the restrictive glances of her family when she began to fully embrace her artistic side, she took some unconventional approaches.
"I was performing in forests. In rich people's crazy mansions. Really out-there stuff. But those are places where I found my political consciousness."
Her performances mixed burlesque with the work songs of enslaved Africans and garnered much favorable attention. She was invited to perform at the Wow Café Theatre, where she was asked to take over as host of Rivers of Honey, a cabaret of LGBTQ women of color and their allies. There, the ideas for Black Girl Ugly, her first play, began to take shape.
But before Black Girl Ugly could see the light of day, Brockington wound up auditioning as an acrobat, clown and stilt walker for Jennifer Miller, the bearded woman who runs Circus Amok, a public circus-theater company. Ironically, Brockington was initially unaware that Brooklyn College was built on the same grounds where, until 1926, Ringling Bros. and Barnum & Bailey Circus once stood, but thought it to be a full-circle moment and was very curious about it.

"Are there people doing circus on campus? Can you still feel the legacy?"

After leaving the circus, Ashley focused on the creation of Black Girl Ugly. It isn't a play, per se. It's a series of vignettes held together by a theme: what black women endure as they move through a world that devalues them. And it's very much an interactive creation. The actors, or "blacktresses" as Brockington calls them, not only perform in it, but have an active role in shaping everything about it, including the dialogue. Each blacktress brings her own experiences to the forefront and collaborates with Brockington to determine the best way to bring that art to bear. As a result, no two Black Girl Ugly performances are ever alike. Black Girl Ugly has been called "stunning and provocative" and  Brockington has been compared to legendary poet/playwright Ntozake Shange, whose "choreopoem" For Colored Girls Who Have Considered Suicide When the Rainbow Is Enuf is regarded as a classic.
Despite rave reviews and all-out performance successes, Brockington says that there are still a number of people and institutions that won't take her work seriously. That's part of the reason why she enrolled in the theater program at Brooklyn College.
"The creative establishment has a problem dealing with a strong black woman who challenges them — on a multitude of levels. As black people, we're still pushing out of the prescribed places we're told we're supposed to be in."
Brooklyn College has much appeal for Brockington: a strong theater department, structured environment, convenient location and an opportunity for her to hone her skills and obtain the legitimacy the college degree confers. Back in May, she had the opportunity to direct a performance of Black Girl Ugly during an Africana studies race and performance conference held at the Woody Tanger Auditorium in the Brooklyn College Library. Assistant Professor Dale Byam, the organizer of the event, was thrilled.
"Lots can be said about Ashley's work with Black Girl Ugly," Byam confided. "I am drawn to it because it highlights a number of absurdities that surround the construction of specific gender identities. Ashley does a phenomenal job of deconstructing some very serious ideas through her unique form of satire. I am busy planning next year's Race and Performance event. Spike Lee will give the keynote address. If all goes well with funding, I will most definitely ask Ashley to participate."
In the meantime, all that Brockington has already achieved gives her the right to feel triumphant.
Back to BC News