Fall speaker series links students to leaders in foster care, juvenile justice and other child advocacy careers.
/web/new_2012news/121004_CHYST-Series_94x84.jpg
Children and Youth Studies Program Presents Fall Distinguished Speaker Series
Oct. 4, 2012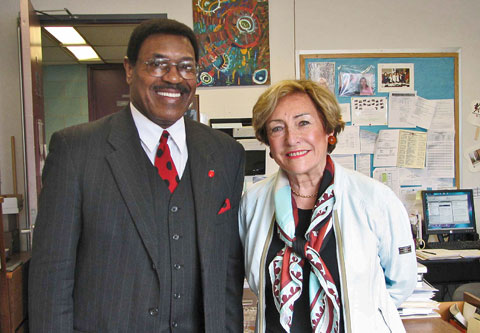 The Children and Youth Studies Program kicked off its annual speaker series on Sept. 27 with a talk by Ron Richter, commissioner of the Administration for Children's Services. Presented as part of the course "Children, Public Policies, Advocacy and Legislation in New York State" (CHST 3320), the series will feature lectures by noted leaders in education, government and children's services. The campus community is welcome to attend these free events, which run through Nov. 20.
Course instructor Honorable William Scarborough, Democratic member of the New York State Assembly, representing District 29 in Queens County, helped to develop this course with Sociology Professor Gertrud Lenzer, founding director of the interdisciplinary Children and Youth Studies program. "Our students have the rare privilege and honor to welcome these distinguished guest speakers in the forum of just a small college class," she says.
Lenzer adds that the lecture series, now in its fourth consecutive year, is an "intrinsic part of the syllabus" that gives students an opportunity to discuss such issues as education, foster care, the juvenile justice system, the child protective system and mental health. Students also have the chance, following the lecture, to network with speakers and explore career opportunities and internships. Graduates of the Children and Youth Studies program often go on to pursue careers in education, social work, the law, media, and major child advocacy and protective organizations.
Upcoming speakers include Honorable Cathy Nolan, New York State assembly chair, Committee on Education (Oct. 9); Senior Director of Safe Horizon Child Advocacy Centers Gena Diacomanolis (Oct. 16); Jamel Robinson, president and CEO, Jamel Robinson Child Welfare Reform Initiative (Oct. 23); Honorable Jeff Klein, New York State Senate, along with Miss New York State 2012 Kaitlyn Monte (Oct. 30); Simona Brown, child care policy analyst, New York State Assembly (Nov. 8); Dermot Smith, Queens chair, United Federation of Teachers (Nov. 15); and President of the New York State Kinship Navigator Gerard Wallace (Nov. 20).
All lectures in the Distinguished Speaker Series are held in 2412 James Hall between 5:05 and 6:20 p.m., unless otherwise noted. Please visit Children and Youth Studies for more information about the degree program. For more information about the speaker series, contact Professor Lenzer.
Back to BC News