Former actress gets a fresh start at Brooklyn College.
/web/new_2012news/121130_Florina-Petcu_94x84.jpg
From the Big Screen to the Soccer Field
Nov. 30, 2012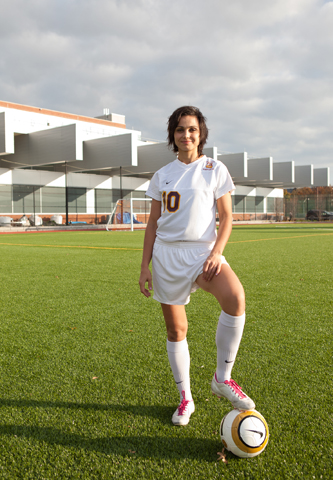 You would never guess it from watching the Brooklyn College women's soccer captain lead her teammates this season, but Florina Petcu was once called a "shameless, cigarette-waving, Albanian floozy" by The New Yorker.
Actually, it was high praise. Her scene with Oscar winner Denzel Washington in Spike Lee's Inside Man was lauded by the magazine as one of the film's best.
"It was a nice little cameo," says the Romanian native, looking back on what seems like another lifetime, "but it was probably the beginning of a turning point in my life where I realized that this industry wasn't for me."
For thirty-seven year-old Petcu, now a senior in the CUNY Baccalaureate for Unique and Interdisciplinary Studies (CUNY BA), acting wasn't holding the same appeal it had when she was performing in theatrical shows throughout Europe during her youth, and racking up television and theater credits here in the United States later on.
"I saw myself becoming someone I didn't like," she says. "I was not Florina, I was the actress."
To stay in shape as an actress, Petcu had taken up Muay Thai boxing, a form of martial arts similar to kickboxing that employs knees and elbows. "I hated the gym and I needed something that would motivate me beyond the idea of having a smaller waist. It provided me with a challenge," she says.
It didn't take long before she was hooked, and gradually, Muay Thai began replacing acting.
Through her boxing circle, Petcu learned about the Somaly Mam Foundation, an organization that helps women and girls who have been involved in sex trafficking.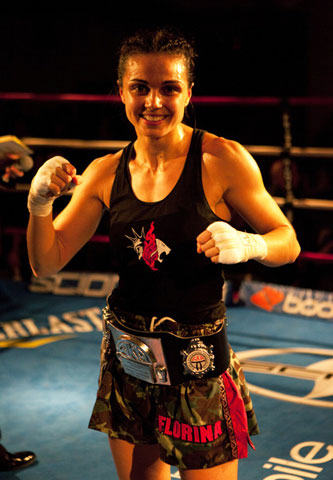 "We worked with survivors doing seminars on self-defense and empowerment," she says. "It was one of the most meaningful experiences."
Through a friend who worked with school children, Petcu learned also about dance therapy. She realized it could be used to help children suffering from post-traumatic stress disorder, due to physical or sexual abuse.
"I started looking into how I could do this," says Petcu, "and I discovered the CUNY BA in interdisciplinary studies."
She chose a double major in sports psychology and creative movement and drama therapy, and plans to become a clinical psychologist. She says she chose Brooklyn College because of its strong psychology program.
In her time at Brooklyn, Petcu has been on the Dean's List and earned a number of scholarships, including the Thomas W. Smith Fellowship and the Harriet Brows Scholarship for Social Change. She has worked on the Healthy CUNY Initiative Campaign and been a research assistant in Professor Israel Abramov's lab, conducting vision studies. She also volunteers every Friday at a domestic violence shelter in Harlem, doing creative movement therapy with children.
And this semester, Petcu joined the college's first ever women's soccer team. A novice to the sport, she quickly became one of three captains.
"In the beginning, I sucked," she says. "I was thinking maybe I just bit off more than I could chew. Then I remembered that anything you do in the beginning is hard."
The team's coach, Patrick Horne—who had no idea about his captain's former acting career—says that Petcu's positive attitude has served her well in the sport.
"She's the heart of the team," he says. "She takes initiative, she never misses practice, and she encourages the rest of the girls."
Her teammates call her mama bear, Petcu says, because she has taken on a bit of a maternal role, encouraging them to try harder and even screening potential suitors for them.
"Finding my place on this team has been a real gift," she says. "Too bad it happened in my last semester, but it's been the icing on the cake for my experiences here."
After she finishes this semester, she plans to apply to master's programs in clinical psychology and enroll in a one-year program in expressive arts therapy. She hopes to work with women and children who have been victims of domestic and sexual abuse, and she'd also like to be an anti sex trafficking activist.
"I've had so many opportunities here that have laid the foundation for not just the career that I want but the kind of person that I want to be and the kind of life that I want to live," she says.
Back to BC News