Andy Goldberg '13 M.F.A. managed to turn his bold idea about staging "Macbeth" as a one-actor play into reality and is now co-directing the production with Tony Award winning director John Tiffany. Starring Alan Cumming, the play is now showing at the Barrymore Theater on Broadway through July 14.
/web/new_2013news/130430_Andy-Goldberg_94x84.jpg
Andy Goldberg's Macbeth Makes Broadway Debut
April 30, 2013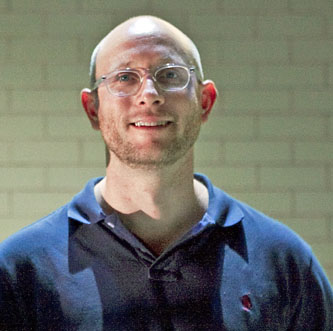 Andy Goldberg '13 has turned his bold idea about staging "Macbeth" as a one-actor play into reality. After a hugely successful run at the National Theatre of Scotland and the 2012 Lincoln Center Festival, the play is now on Broadway at the Barrymore Theater, and will run through July 14.

"I've always loved Shakespeare," says Goldberg, a student in the Performance and Interactive Media Arts Program at Brooklyn College (PIMA). The unique reimagining of the play features Tony and Emmy award-winner Alan Cumming as a lone psychiatric patient, reliving the classic story, as he is captured by closed circuit camera.
"Two weeks after our opening I'll be defending my thesis," says Goldberg, an east coast native who moved to California with his parents after high school.
His passion for the Bard of Avon led him to work for the Oregon Shakespeare Festival right after earning his B.A. in English from Stanford University in 1993. After moving back east, Goldberg became the assistant artistic director for The New Group, the off-Broadway theater company known for staging new plays.
"I had to oversee the plays submitted to the group, schedule readings and readers, put together reading developmental workshops and set up meetings with the playwrights whose pieces were chosen," Goldberg says.
Five years later, Goldberg became a freelance theater practitioner, teaching acting while continuing to produce and direct plays all over the world, from London's West End (the famous theater lane) to New York and Australia.
A fortuitous encounter with four undergraduate students of New York University also put him on track to direct their innovative "Bomb-Itty of Errors," a re-telling by four actors of Shakespeare's "Comedy of Errors," but with hip hop music and elements of contemporary popular culture. The play opened off-Broadway in 2000 to great acclaim and later traveled to Aspen, Chicago, Scotland, Dublin, London and Australia.
Since 2004, Goldberg has directed several plays, including Shakespeare's "Romeo and Juliet," "A Midsummer Night's Dream" and "Twelfth Night" for La Mama, as well as "Daddy Cool" and "Gabba Gabba Hey," a 2005 musical about the Ramones that was performed in rock clubs in Australia. The production enabled Goldberg to work with Tommy Ramone.
With his love for Shakespeare and directing undiminished, Goldberg started in 2005 what he called the Shakespeare "gym workout," to train actors in classical acting. Soon he realized that, to pursue his passion for teaching in a more traditional, collegial setting he needed an advanced degree.
Thanks to Tom Bullard, past chair of the Brooklyn College Department of Theater, Goldberg discovered the PIMA program.
"There are no other programs like it," says Goldberg. Being exposed to classmates who had interdisciplinary backgrounds helped him rethink the relationship between theater and the other arts, as well as technology's relationship to the arts. "Its influence has changed the way I think about virtually everything."
So when the Tony Award-winning director of "Once," John Tiffany, shared with Goldberg his frustration about a reading of Macbeth with Scottish actor Alan Cumming, of "The Good Wife" fame, Goldberg explained his decade-old idea of staging Macbeth as a soliloquy. His goal was to strip away the political and historical elements from Macbeth in order to delve into the mind of the murderer.
The play has no battle scenes, no fancy period costumes, and just one actor. The character, admitted to a psychiatric ward by two nurses, recounts in Shakespeare's original words the tragedy of Macbeth, king of Scotland. Cumming plays all of the characters and it becomes challenging for spectators to decide whether the character is Macbeth recounting his deeds or a madman in the twilight of his sanity.
"There's an element of interactivity in theater that you don't find in film or television," says the young director, who is now part of a collaborative project with other three PIMA students called The Institute for Psychogeographic Adventure, Experiment #17. "I think I'd like to teach in an interdisciplinary program like PIMA."
Back to BC News