A special graduate school program to aid Parkinson's patients through speech therapy is launched at Brooklyn College.
/web/new_2013news/130723_SpeechLanguageHearing_94x84.jpg
Brooklyn College Helps Parkinson's Disease Patients with New Speech Therapy Program
July 23, 2013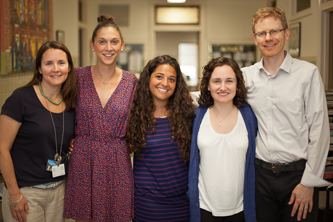 The Diana Rogovin Davidow Speech Language Hearing Center at Brooklyn College launched the Lee Silverman Voice Treatment (LSVT), a certification program for improving the voice and speech of individuals with Parkinson disease.
Parkinson's disease (PD) — made more widely-known to the public by actor Michael J. Fox, who revealed he had PD in 1998 — is a chronic and progressive movement disorder caused by the death of nerve cells in the brain that help control motor abilities. Although there is no cure, unchecked, PD's symptoms — tremors of the hand, limbs, jaw and face; slowness of movement; stiffness of the limbs and trunk; impaired balance and coordination; and speech impairment — worsen more quickly over time. Nearly one million people are living with PD.
"Professor Gail Gurland, deputy chair and program director for graduate studies in our department introduced me to Diana, and we started talking about a program that caters to PD clients," says Sharon Beaumont-Bowman, assistant professor in the Department of Speech Communications Arts and Sciences, who along with alumna Diana Rogovin Davidow '66 '71 M.S., worked to initiate LSVT at Brooklyn College in spring 2013. 
Under the supervision of Beaumont-Bowman, the four-week therapy program is dually designed to support the communication skills of individuals with PD, while giving students majoring in speech-language pathology intensive one-on-one diagnostic and treatment training.
"The LSVT program gives those with PD a go-to place because we have created a solid foundation for them where they can feel comfortable and be themselves," said Beaumont-Bowman. "We want them to have a vibrant attitude about life even though they're living with this chronic disease."

To this end, students also work with PD clients in social settings with specially designed singing, dancing, and other community-based classes offered through the  Brooklyn Parkinson Group, a non-profit organization dedicated to enhancing the lives of those with Parkinson's through arts-based activities.
"We have formed a relationship with Brooklyn Parkinson Group and look forward to strengthening it so as to serve the community. This is very important," says Beaumont-Bowman.
Of the LSVT program, graduate student Ashley Small '13 M.S., has high praise. "Professor Beaumont-Bowman challenged me in appropriate ways and pushed me to learn more about myself and my clients," said Small.
"I also enjoyed watching my fellow colleagues' sessions. It was important to see how each colleague dealt with different issues, and to get their advice on those issues that arose in my sessions," she said.
"I feel that I have a much better understanding of some of the unique challenges, both physical and emotional, that PD patients face on a daily basis, says Kevin Hodge '13, another speech-language pathology graduate student in the program. "I know that I can apply that knowledge and understanding to all future clients."
The benefits are not for the students alone. Those PD patients who participated in the program have reported that their self-esteem has increased tremendously and expressed satisfaction with the course of voice therapy.
One client revealed that his friends have made positive comments about his increased vocal volume and that acquaintances told him that they were unaware he was even able to speak until he began the LSVT program. With his increased feeling of confidence he is now interested in attending group therapy at Brooklyn College.
The Lee Silverman Voice Treatment program is named for a woman with PD whose family challenged speech-language pathologists and researchers to come up with a way to communicate with her. The challenge grew into a program that eventually became LSVT Global, a for-profit organization that trains speech-language pathologists world-wide in a research based, proprietary speech therapy approach.
Four speech-language pathology graduate students were certified in LSVT in Spring 2013, and with the continued financial support of Davidow — who in 2007 donated $1 million to what was formerly known as the Brooklyn College Speech and Hearing Center — and other contributors, Beaumont-Bowman hopes to offer the program to students this fall.
Back to BC News