From Lagos to Mumbai to a village in Nepal, 2013 Rosen Fellows give back to world communities and are transformed in the process.
/web/new_2013news/130909_Rosen_94x84.jpg
A Global Classroom
Sept. 11, 2013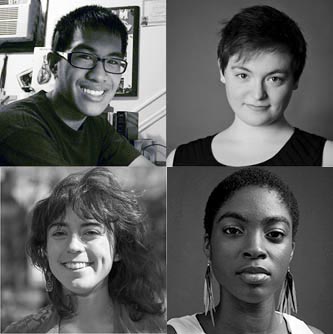 For the third consecutive year Brooklyn College students have envisioned the type of impactful projects that have garnered them Rosen Fellowships — $5,000 stipends that give them the a chance to create an "out-of-classroom experience," many of which happen overseas.
Ranjeet Kaur '14 spent five weeks in Mumbai, India, carrying out an ethnographic study of adolescent HIV patients that focused on the social stigma surrounding the disease.
"You have to know the culture of a place to understand better how to better serve its people," says Kaur. "Mumbai society leaves little room for privacy. Children with the disease—our patients all contracted HIV from their mothers— are afraid to talk about HIV because they are afraid their friends will find out and they will be abandoned by them."
Kaur worked with the medical staff at the Lokmanya Tilak Municipal General Hospital to create a venue where the young patients could visit on a regular basis, allowing counselors and doctors to start talking about HIV.
Health and nutrition major Sitrat Bassey '15 headed to her home of Lagos, Nigeria to educate midwives, or as they call them in her country, birth attendants, in rural communities.
"Traditional birth attendants are the go-to people for obstetric care there. Yet we had some astoundingly high numbers of newborn and maternal fatalities." Bassey's idea was to find a way to lower these numbers by offering training to lesser or more newly skilled birth attendants."
In the process, Bassey, who worked at a clinic in her village, solved an ongoing problem.
"There was a riff in the village between the skilled and more unskilled attendants and this was causing big problem. We got the skilled attendants to help teach better ways and techniques of delivering babies." Rather than working against each other, all of the attendants will be "working hand in hand," says Bassey.
Geoffrey Mercene '15, a biology major of Filipino descent who grew up in Brooklyn, aims to work in the public health/international development field. The Macaulay Honors College student traveled to Mangan, a small farming town on Panay Island, where his mother was born. He digitized and analyzed medical records for patients from Mangan at the local health clinic.
Says Mercene, "They lack sufficient resources to provide adequate modern healthcare." Ultimately, he hopes that what he learned can lead to modernized healthcare for people not only in the Philippines but also around the globe.
Geology student, Caitlin Boas, '15 is in Mississippi's Gulf Coast, where she is collecting geological data from "one of the most studied extinction events" on Earth, the 65-million-year-old meteorite collision that brought about the end of the dinosaurs.
"The cause of this extinction is still widely debated," says Boas. What we are studying is a rarity: ancient marine life from what, millions of years ago, was a warm shallow sea that was preserved with debris from meteorites. What makes the find unique and rare is that the marine life existed around the time of the dinosaurs." Boas will be presenting her results at the Geology Society of America's annual meeting in Denver early this fall.
Junior Amy Gijsbers van Wijk, a native Texan and Macaulay Honors College student working toward a double major in arts administration and theatrical authorship studies, remained in New York this summer to begin production on "Second Skin," her first full-length play, which will open this October.
Anthropology major Devki Bhatt '14 went to Bhaunne, Nepal, to study breast-feeding practices for comparison to international trends. Bhatt used a questionnaire based on World Health Organization and American Pediatric Association standards.
Emma Rock '15, a Brooklyn native who is studying writing, film, and theater in a self-designed CUNY-BA "storytelling" major, headed to Dublin this summer to study Irish theater at the Gaiety School, Ireland's national acting school. She also shot a film in Dublin that she wrote and directed using local actors and crew members.
And Jack Horowitz '15, a music composition major  flew to Cordoba, Argentina, where he studied with a renowned composer, José Halac. Horowitz completed two compositions, an electronic piece with flute solo, and one for a quintet of reed instruments, which will be the lynchpin of his applications to graduate school.
 "What is wonderful about this fellowship is that it gave me a chance to compose without having to check in or adhere to a rigid schedule," says Horowitz. "I could just turn all of my attention to composing."
Launched three years ago by Florence Rosen '59, the grant provides support for undergraduate students to create an out-of-classroom experience that promotes creative or career advancement. To be considered for a Rosen Fellowship a student must create a life-changing project idea.
Says Kaur, "What I love about the Rosen Fellowship is that it's open. You usually have set criteria with other fellowships and strict parameters, and this can be challenging. With the Rosen fellowship you are open to explore and be creative."
The competition is open to all full-time Brooklyn College undergrads, typically sophomores or juniors, and the deadline for the submission of applications is the end of December. The names of recipients are announced in mid-March.
Back to BC News