Seasoned arts professional Jon Yanofsky takes the helm at BCBC with a view toward invigorating programs for students and the Brooklyn community.
/web/new_2013news/131018_Yanofsky_94x84.jpg
Brooklyn Center for the Performing Arts Names New Director
Oct. 18, 2013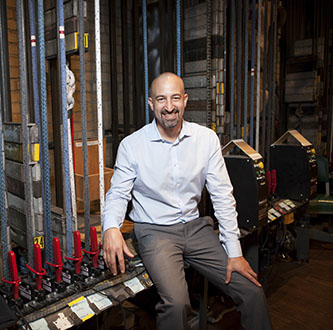 When asked how the arts can enrich the lives of both college students and people in the surrounding community, Jon Yanofsky, new director of the Brooklyn Center for Performing Arts at Brooklyn College (BCBC) laughs. "Whole doctoral theses have been written on that subject."
Yanofsky, who joined BCBC as its new director in July, has under his belt more than 20 years of experience in the arts. He has served as the executive director of the Paramount Center for the Arts, and most recently as the director of marketing for Jazz at Lincoln Center. He has also worked as an arts consultant for BRIC/Celebrate Brooklyn! and the Irish Arts Center.
Arts administration was a course of study that barely existed when Yanofsky attended the University of California, Santa Cruz. After graduating, he responded to an internship ad in a local paper and began working with the San Francisco Jazz Festival in its public relations department.
"Very quickly, I found it incredibly interesting, behind the scenes, behind the stage, all the work behind what the audience sees,"he says. "I realized this is the path I wanted to pursue."
Now he's at the helm of an organization that boasts one of the largest arts education programs in Brooklyn.
"What's special about BCBC is its longstanding history," says Yanofsky. "Next year will mark its 60th Anniversary. In the fifties and sixties, it was all about symphonic music and classic ballet and dance."

Founded in 1954, BCBC is a non-profit organization dedicated to presenting outstanding performing arts and arts education programs that cater to and are reflective of the borough's widely diverse communities.
More than 65,000 people visit BCBC each season, filling the 2,400-seat Walt Whitman Theatre and serving 45,000 schoolchildren from over 300 schools annually with its SchoolTime series.

"As the demographics change, so do the offerings," he says. "But we've never departed from the core mission of high quality programs, at good prices, reflective of the residents of the borough. I want to reenergize the organization and build out from our strengths, extending our reach throughout all of Brooklyn."
That includes bringing local high school students in to work with featured artist and hosting pre-concert lectures that tie in to performances.
Coming to BCBC on Nov. 2 will be Tony-award winning dancer and choreographer Savion Glover in his show STePZ, a performance that "fuses traditional music selections of the past with Glover's self-proclaimed tap style and energy of the future."
Back to BC News