Humorist and Brooklyn College lecturer Julianna Forlano, and her student interns, bring humor to politics for audiences nationwide in a daily broadcast from the college's very own radio station.
/web/new_2015news/150203_Forlano_94x84.jpg
Live from Brooklyn College
Feb. 3, 2015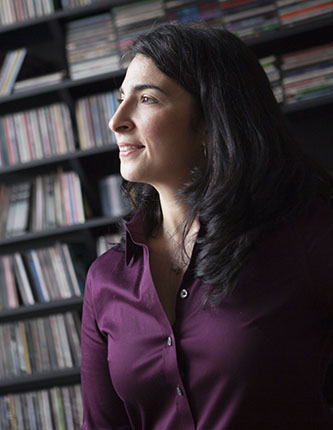 Julianna Forlano sits in a modest office with floor-to-ceiling bookshelves filled with thousands of CDs. She has also personalized the space with political pop art.
"This used to be a closet, you know," says Forlano, activist, humorist, licensed psychotherapist, radio personality, writer, and adjunct lecturer in the Department of Television and Radio. "You laugh, but I'm serious!"
Just across the hall are the Brooklyn College Radio (WBCR) facilities. Renovated in 2004, the station has all the state-of-the-art equipment necessary to produce high-quality content for a wide range of listeners. It is early in the afternoon and Forlano's interns—all TV and radio students—are huddled in the studio preparing for the latest airing of The Julianna Forlano Show. Broadcast from Brooklyn College to WBAI 99.5 FM for the six months it has been in existence, the show reaches audiences in the New York metropolitan area and broadcasts nationwide via The Progressive Voices Radio Network.
The show, which blends politics and humor, breaks news and has in-studio interviews with renowned activists, journalists, politicians and scholars. Recently, Forlano and her interns welcomed Alan Grayson, U.S. representative for Florida's 9th congressional district, on air to discuss U.S. trade policy. Guests like Grayson help Forlano and her team to unpack the latest headlines and discuss everything from police brutality to terrorist attacks. How is it possible to tackle such subject matter with levity?
"The best comedy critiques upward," says Forlano. "It creates a level playing field between us and the giants. I think comedy is a gift to use for the greater good."
For Forlano, the most important part of her work is that she gets to help students. Though she had offers to broadcast her show from other stations, she chose Brooklyn College as her headquarters.
"I saw this as a great way to offer the students here the opportunity to produce a show," she says. "I remember we once had investigative journalist and radio powerhouse Bob Hennelly on the show and he said, 'I have to tell you, your students have the very best set up here. Many interns in this industry are tasked with getting coffee, making copies—maybe they get a rare chance to edit something. But your students are actually creating a full-on, live production!'"
Forlano is also able to use her industry connections to give her interns access to invitation-only events, like the recent opening of YouTube Space in New York City, which brought together advertisers and creators for workshops, creative proceedings, and the utilization of YouTube production facilities.
The students are extremely grateful for the chance to showcase their talents and to learn from someone who has become more than a teacher. To them, she is also a mentor, role model and friend.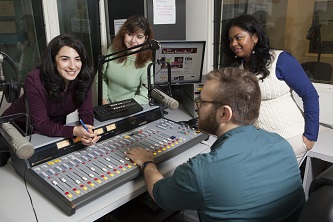 Junior Faina Gordover helped Forlano with her award-winning, syndicated, political news parody Absurdity Today, which airs on DirectTV, Dish Network's Free Speech Television (FSTV), The Young Turks Online Network, and other outlets. She has also been with The Julianna Forlano Show since its inception. She admires Forlano's accomplishments and is empowered by her entrepreneurial spirit. "I want to one day create my own media start-up, and the projects I've been working on with Julianna help me to understand how to lay the foundation for such a venture in a very practical, hands-on manner."
Senior Chantelle Teekasingh, who started her own production company Rhythm Nation Entertainment last June, is Forlano's social media guru and manages the show's Facebook, Instagram, and Twitter pages. She was also able to step out of her comfort zone and participate in other behind-the-scene aspects of the show's production, like working the soundboard, and ensuring proper radio etiquette during taping.
"When some people hear a woman working on a production, they expect you to be in front of the camera or mic as opposed to behind it," Teekasingh shares about her previous experiences in the industry. "I don't take offense. What I'm learning is that persistence in the face of ignorance is key. Julianna symbolizes that for me and perhaps I can symbolize that for the next young woman coming up."
Senior Charles Carr has been with WBCR for six years and has served as sound engineer for Forlano's show since its start. "I want to be a radio producer, the person who helps the talent develop their ideas into these wonderful creations," he says. "I recognized that I needed a mentor, someone to help me take that next step because I didn't have anyone around me who could fill those shoes—that is, until Julianna took me under her wing."
"I wish I could do more," says Forlano. "These remarkably talented students receive credit for their work with me. But in addition to that and dealing with their regular course loads, they have to work part-time or full-time jobs. It would be awesome if I could offer a stipend of some kind, ease their burdens a bit, and compensate them for their diligence." Forlano produces the show, for WBAI and the college, free of charge.
She and her hardworking interns are currently collaborating with the students at the Brooklyn College Television Center to produce a video companion to The Julianna Forlano Show for FSTV. The radio show airs on WBAI 99.5 FM Monday to Thursday, from 6–7 p.m. and is available as a podcast. Forlano also produces and regularly performs at The Laughing Liberally Lab, a live, political, stand-up comedy showcase in New York City. For more information, please visit her website.
Back to BC News