Courses prepare students to take ideas from concept to digital broadcast. 
/web/new_2015news/150225_TVR_94x84.jpg
Television and Radio Students to Launch Web-based Miniseries
Feb. 25, 2015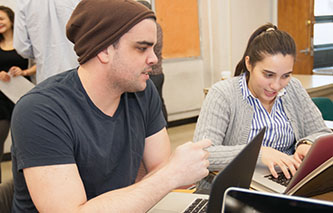 While the digital revolution continues to transform nearly every aspect of life, the Department of Television and Radio is making sure its students stay ahead of the curve. A series of interconnected courses will now ground undergraduates in the entire television production process—from concept creation to screenwriting to production to delivery and distribution—culminating in a Web-based miniseries that stars a cast of BFA and BA Acting students from the college's Department of Theater.
"The purpose of this series of courses is to give our students the opportunity to create original content from the first time they sit down at a keyboard, and then take that project all the way through to completion," says Television and Radio Chair Stuart MacLelland. "Our hope is that students get the full aesthetic experience of creating an original series, so that they can transform what they write into an audiovisual program that has meaning and connects with audiences."
The 14 students, hand picked by Television and Radio Lecturer Brian Dunphy, must take four existing courses, which have been arranged in a consecutive sequence and run from the January 2015 winter session through the second summer session in July. They include: Content Development, Advanced Dramatic Screenwriting, Advanced Producing and Direction for Television, and Advanced Post-production.  "We're talking about creating or replicating new models of media distribution," says MacLelland. "And our new state-of-the-art high definition TV studio has the technology to allow us to do all that the TV networks can do."
By working with students actors in Acting for the Camera, a new a cross-disciplinary Theater Department course implemented last year, television and radio students are for the first time able to generate a series completely in-house, while keeping the same group of students involved in the casting, production, and post-production of the project.
"They are a hard-working group and very invested in this project," says adjunct Professor Nurit Koppel, a screenwriter who currently has a script under production with Bona Fide Productions and is creating a half-hour comedy for Amazon TV.
Starting this September, the Web series—a drama with comedic elements—will be posted weekly for eight weeks on YouTube and shared to the Department of Television and Radio's Web page.
"We will no longer be restricted by the television format or locked into a timeslot," says MacLelland. "People will be able to see the series online whenever they want."
Students have already developed three full episodes. Casting for the production will take place at the end of April and shooting will begin in May.
"It's a great experience, like being part of the Saturday Night Live writing team," says Colleen Scriven, a television and radio and film, double major who received a Rosen Scholarship last year to produce a web mini-series. Dunphy brought her on board to become the head writer of the team.
"Getting the chance to be part of the entire process isn't something you get to do at most internships," says Laura Morales, who double-majors in television and radio and psychology. "We know that in this industry, you can't do everything on your own, so it's important to know how to be a team player," adds Morales, who hopes this class sets a precedent for future ones.
Back to BC News