Students take advantage of opportunity to sit for professional pictures. 
/web/new_2015news/Boltyanskythumb.jpg
Magner Center Hosts LinkedIn Photo Booth
April 9, 2015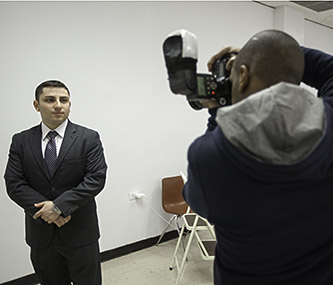 Senior Isaak Boltyansky knows that, these days, one of the first things that companies do when considering you for a position is look you up on the Internet. LinkedIn, the business-oriented social media networking service, is often the first stop.
And once they get to your page, "the photo is definitely your centerpiece," says Boltyansky, a finance and business management and accounting major. "People expect to be able to see you even before you walk in the door."
So a couple hours before the annual Brooklyn College Job and Internship Fair, he takes his position on a stool in a far corner of the Student Center's Bedford Lounge, and sits with his back straight and his hands folded while a photographer snaps away.
"They say you get something like 12 times the page views just by adding a picture," says Boltyansky, who has come to the fair to network, even though he has already secured a summer internship in the Brooklyn District Attorney's office.
For the second year, the Magner Career Center, has organized a LinkedIn "photo booth" where students have a free professional-quality photograph taken for use on LinkedIn or other pages.
"Students need to think about their professional persona, especially online. That's why selfies won't cut it on LinkedIn," says Michael Sarrao, career education and training specialist at Magner, who came up with the idea. 
This year, several dozen students registered to participate in the photo sessions. Already dressed to impress the more than 80 employers who came out to recruit, the students held up professionally-made signs while their portraits were taken with the hashtags "Iwillbehired" and "magnercenter."
"This will definitely be better than what I have up now," says Boltyansky.
Career fairs and on-campus recruiting comprise more than half of employers' recruiting budgets for interns and co-op students, according to the National Association of Colleges and Employers' 2014 Internship & Co-op Survey. The same survey also found that career fairs and on-campus recruiting are rated highest in terms of effectiveness for recruiting interns and co-op students.  The same association also found that employers plan to hire 7.5 percent more class of 2015 graduates than from the Class of 2014.
The Magner Career Center assists Brooklyn College students and alumni in developing the skills necessary to attain their career goals. They provide comprehensive career services enabling students to apply their academic knowledge and personal values to the world of work. Through partnerships with employers and the college's academic faculty and staff, students are offered the knowledge, skills and experiences needed to thrive in today's globally interdependent world. They continually assess their programs and modify them to meet the students' career goals and the ever changing workplace. 
Back to BC News