Professor Matthew Burgess' unique approach to teaching poetry energizes and transforms his students of all ages.
/web/new_2015news/150617_Burgess_94x84.jpg
Poetry Is an Astronaut
June 17, 2015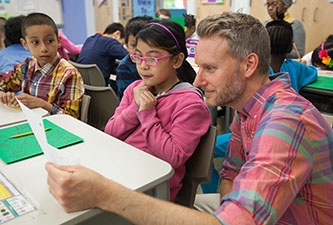 Immediately when Matthew Burgess '01, walks into the classroom in P.S. 51, a bright new building on the edge of Hell's Kitchen in Manhattan, about 25 second graders jump up from their desks and excitedly yell, "Hi Mr. Matt!"
Burgess, a full-time lecturer in the English department who teaches creative writing and composition, is here to conduct a weekly class on poetry for students who attend the art-filled building from the local neighborhood, which includes a mix of longtime residents and newcomers. 
Burgess takes his place beside an easel on a brightly colored rug in the front of the room. The kids scramble to sit before him and together they start snapping their fingers—his signal to fire up their imaginations—and they all chant in unison: "I'm a poet / and I know it / and I have poems / to show it."
And they laugh. It's the kind of deep belly laugh that kids tend to deliver like no one else. It's also the kind of energy that Burgess, a poet himself who just wrote a children's book on a famous poet—Enormous Smallness: A Story of E. E. Cummings (Enchanted Lion Books, 2015)—uses to nurture his own artistry. 
"There's a particular magic you get from a circle of young writers," Burgess explains. 
A writer with a solid literary vita, Burgess earned a MacArthur Scholarship while working on his MFA in poetry here, and more recently, a grant from The Fund for Poetry. He has also published a collection of poems, Slippers for Elsewhere (Upset Press, 2014), and his poems and essays have appeared in numerous journals. But there's something about teaching young people that synergizes his scholarship. 
"I never lost the ability to drop into a child's world," he says. "I've always wanted to maintain access to that playful, imaginative realm."
For nearly 15 years, Burgess has been a writer-in-residence with Teachers and Writers Collaborative, an organization that sends professional writers into schools. It's work that plays into his larger interests on how to encourage older learners to connect with a spontaneity and a creative spirit that is less inhibited and spoiled by all the red-lined papers they've gotten back over the years. 
"I go in to my second-grade class and ask them to write a poem and they're game. They're willing to get silly and make mistakes. There's life in their faces," he says. "On the first day of teaching English 1012, the college students' faces seem to say 'I'm not good at this,' or 'I don't like writing.' You can see their anxiety and apprehension."
When he started talking to the college and elementary school students about each other's work, he realized there was a pedagogical benefit. The second-graders started fantasizing about the college experience while the college students were reminded of their younger selves.
"We all began our lives as natural writers," says Burgess. "It was like drawing. It was a process of discovery and we were able to express ourselves."
Burgess was working on his dissertation about the childhoods of various 20th Century writers when his publisher asked him to write a book introducing Cummings' life and work to children. He was daunted at the idea of juggling the two projects but after doing a little digging, he realized that Cummings' story—at its core, that of a little boy who was lucky enough to have parents who built him a tree house and gave his imagination a space—intersected directly with his own research.
"I thought: This is the children's book version of my dissertation," says Burgess, who completed his Ph.D. in philosophy from the CUNY Graduate Center last year. 
The book has been well acclaimed, with Publisher's Weekly calling it "a lovingly-crafted homage to a writer whose poems were alive with experimentation and surprise."
Burgess simply hopes it helps kids get excited about poetry as much as they energize him about his work. 
"Artists have to find a way to access that space where creativity is possible, where they can go in and play," he says. "One of the things the second-graders teach us is to trust the process. It's where the magic happens."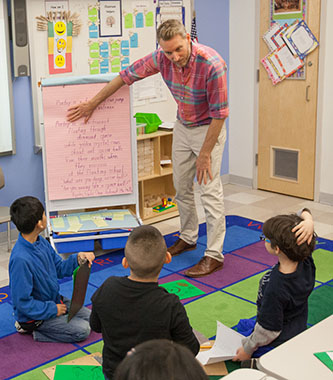 Back at P.S. 51, the students are working on their poems at their desks when Burgess pulls to the carpet three boys who are having a hard time. He starts with a line, "Poetry is an astronaut."
One of the boys adds, "floating through diamond space."
"Great," Burgess says. "Doing what?"
After a silence, another boy says, "while golden crystal cows shoot out soccer balls."
"Where are the soccer balls shooting from?" Burgess asks.
"From their mouth," says one of the boys.
"When they?" Burgess prompts them. "What do cows say?"
"Mooooooo," they answer in unison.
"Right," Burgess says. "Golden crystal cows shoot out soccer balls from their mouths when they moooooooo."
Back to BC News